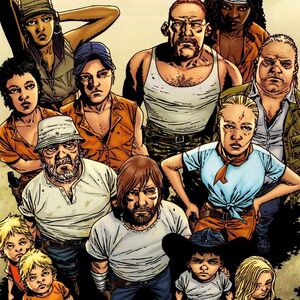 Welcome to The Walking Dead Wiki, ZoraLink10nLink! Thank you for List of Deaths (Social Game)
There's a lot to do around here, so we hope you'll stay with us and make many more improvements.
Recent changes is a great first stop, because you can see what pages other people have been editing, and where you can help.
Questions? You can ask on the "discussion" page associated with each article, or post a message on my talk page!
Need more help? The Community Portal has an outline of the site and links to pages to help you learn how to edit.
Please sign in every time you edit, so that we can recognize an established user.
We're really happy to have you here, and look forward to working with you!
-- BanishU (Talk) 15:10, January 13, 2013
Epic Fights
Hey, I made a new thing called Epic Fights where I put two characters from Walking Dead, LOST or Left 4 Dead against each other. http://walkingdead.wikia.com/wiki/User_blog:Paul_%27%27Jesus%22_Monroe/Epic_Fights:_Daryl_Dixon_(TWD)_vs_James_%27Sawyer%27_Ford_(LOST), if you don't mind I would love for you to check it out and maybe vote.
Wait wait wait hold on!
You guys thanked ME for List of Social Game Deaths? I didn't make that article. but still thanks for the warm welcome guys.--ZoraLink10nLink (talk) 22:35, March 26, 2013 (UTC)
Re: I have a question
Hello. I seen your message, is your question, would you like me to make these templates?
- Liam "BanishU" Michaels (talk) 16:52, March 27, 2013 (UTC)
Hey, Zora. I have made the templates and added them to your page, if you have any problems, just tell me and I'll fix it,
- Liam "BanishU" Michaels (talk) 21:09, March 27, 2013 (UTC)
Hmm...
Am I permited to make a Template? I'm thinking of making a JudithFan Template. Long live Lil' Ass kicker.
ZoraLink10nLink (talk) 21:20, March 27, 2013 (UTC)
Yes, you are aloud to make a template, if you know how to, if not, I will be happy to make it for you.
- Liam "BanishU" Michaels (talk) 21:27, March 27, 2013 (UTC)
I have another question
are there any sort of rules for templates that I am and am not allowed to put on my user page?
ZoraLink10nLink (talk) 00:23, April 2, 2013 (UTC)
Reply: MiltonTemplate
lol, thanks :) That's really cool! --JuneCat 18:00, April 20, 2013 (UTC)
Wikia age...
Yeah, you do know you have to be 13 to have an account, right? It's under the Terms of Use and you just released the fact that you're currently 11 years old. Shellturtleguy (talk) 00:15, April 25, 2013 (UTC)
Shhh...
ZoraLink10nLink (talk) 01:53, April 25, 2013 (UTC)
Re: Question
Just copy the code on my userpage (the one at the top with File:ImAHippo.jpg) and replace the file name with the file name of the picture you want. --InsaneHippo (T|B|C)
Well thanks for the advice, next Pokemon game i play. I will be sure to catch me a dildo ! Naruto Uzumaki 15:57, April 1, 2014 (UTC)
Haha i'll try i hear female ones, are very Rare though. like only 10% or something. (according to pokemon wiki) however i'll try my best to catch one, and evolve it.  so i can have a kickass team !(not sure why my nam doesn't highlight)  Naruto Uzumaki (talk) 16:42, April 1, 2014 (UTC)