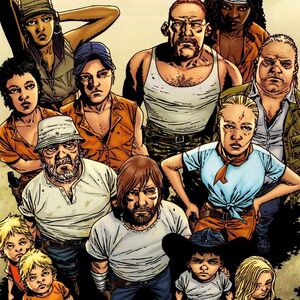 Welcome to The Walking Dead Wiki, Jayden Matthews! Thank you for Paula (TV Series)
There's a lot to do around here, so we hope you'll stay with us and make many more improvements.
Recent changes is a great first stop, because you can see what pages other people have been editing, and where you can help.
Questions? You can ask on the "discussion" page associated with each article, or post a message on my talk page!
Need more help? The Community Portal has an outline of the site and links to pages to help you learn how to edit.
Please sign in every time you edit, so that we can recognize an established user.
We're really happy to have you here, and look forward to working with you!
-- 06abrahb (Talk) 11:36, 25 April 2012
Quotes
Hey Jayden, my name is Liam and i am an admin on this wiki, i would like to ask you just one question. I notice that you are puuting quotes on random pages such as Jenny Jones, my question is, will you be doing this for all TV series characters, or all comic characters or just random characters - BanishU 15:07, April 26, 2012 (UTC)
you could do all characters that say something or you could add there first ever sentence, maybe one day i will do some comic quotes since i collect the comics - BanishU 15:28, April 26, 2012 (UTC)
haha that's true, well i insist that if you are going to do Shane's quote, it has to be the one where he sarcasticall tells everyone that he's goin to get Randall some chocolate's etc... - BanishU 15:43, April 26, 2012 (UTC)
) - BanishU 17:13, April 26, 2012 (UTC)
totally done with TB
After this... I am done READ. Can you believe it? -smh- QueenBuffy (OMG, Scourge deleted EVERYTHING that was said! I AM PISSED)
True Blood Block
Look how about 1 full year off the wiki, I can do that and I will do that. In that time, I can think about my actions more clearly and I am sorry for all the stunts I have done on the wiki. So please just please give me another chance and just give me just one more, if I mess up again you can block me for a longer time say a four year ban. I am quite annoyed with myself at the moment, if I were you I would be pissed at me to. I am a worthless user who like to screw with the wiki, I am so sorry.
User:VampiresAndWerewolfsareAwesomeAsHell23  (talk)
Seeing that I have been doing things with the best intentions and If you say so then so be it, I will accept it and I will never do it again. I love True Blood and I am sorry, I really am sorry. Please just let me have one last chance.