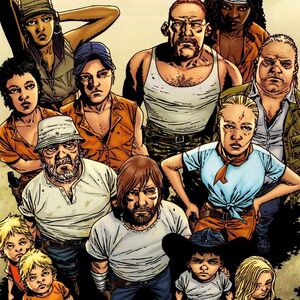 Welcome to The Walking Dead Wiki, TheGrimBotch! Thank you for File:523524 526729690686527 1940995088 n.jpg
There's a lot to do around here, so we hope you'll stay with us and make many more improvements.
Recent changes is a great first stop, because you can see what pages other people have been editing, and where you can help.
Questions? You can ask on the "discussion" page associated with each article, or post a message on my talk page!
Need more help? The Community Portal has an outline of the site and links to pages to help you learn how to edit.
Please sign in every time you edit, so that we can recognize an established user.
We're really happy to have you here, and look forward to working with you!
-- Conesses133 (Talk) 17:06, September 5, 2012
Give it a rest
Dude, there's plenty of people that know Andrew is dead, stop with the editing, you're not gonna win. Shellturtleguy (talk) 15:45, October 22, 2012 (UTC)
Are you threatning me, master jedi? - TheGrim
LMFAO that was so funny dude :D. No, but if you have any questions, visit one of the admins' talk pages. BanishU, Axel TWD, Conesses133 will be happy to help you. Shellturtleguy (talk) 15:49, October 22, 2012 (UTC)
I guess Andrew was alive after all. :D ...Doesn't matter, because now he is dead "again". But it was good while it lasted, I guess. - TheGrim
Forgeting about details
Except that Duck IS determinant, because he's either shot or left to reanimate. Campman dies no matter what, he's either choked to death or Clem shoots him. 24.73.87.14 17:58, November 21, 2012 (UTC)Wikia contributor
Pretty cool that you noticed that, except that you forgot that everybody reanimates no matter what. If Campman is choked to death and you don't shoot him in the head, he will reanimate. The Grim Botches Edits (talk) 18:05, November 21, 2012 (UTC)
thanks!
Thanks for being a good person and meeting me halfway much appreciated.DevynC2 (talk) 12:48, November 26, 2012 (UTC)
Isn't this a song? "Meet me halfway?" The Grim Botches Edits (talk) 12:50, November 26, 2012 (UTC)
Episodes Pics
Yeah I read the whole thing. I understand where you are coming from with official pictures, he just wanted some more shots that are more exciting. Like Hounded, the official image is Merle with a gun. I thought one with the Woodbury group he was with was nice and more interesting than just Merle with a gun aiming. But I do understand what you are saying, Thanks. Hallowseve15 (talk) 19:09, November 28, 2012 (UTC)
Re: Pictures
To be honest, they are just pictures. There are no official picturesm they are just pictures uploaded by AMC. But the pictures can be any type that is a cool picture from the episode.
- Liam "BanishU" Michaels (talk) 15:11, November 29, 2012 (UTC)
Re: Morgan Page Protection
Could you please unlock Morgan's page so we can update stuff? Thank you.
The Grim Botches Edits (talk) 05:52, March 4, 2013 (UTC)
The page has been unlocked.  
Axel TWD (talk) 05:55, March 4, 2013 (UTC)
Hey im just trying to add amy's last name and that daryl crossed paths with her parents so why do u keep taking it down
Come to chat :)
Background survivors, repeats?
Hi, please see Talk:Background survivors...what repeats are you talking about? I'd like to fix any mistakes. Thanks. --Mistertrouble189 (talk) 18:26, March 26, 2013 (UTC)
Shane Killed
After going through all the history of shanes page they were added around march by admins BanishU and 06abraha. Both admins left them there and those characters have been under Shanes killed victims list sense.
Back in July there was a discussion via chat about this same topic and BanishU said to let them be due to the fact it was canon and that DR Shane did the same thing TV Shane did thus TV Shane killed them
Now with Daryl as that one is more touchy due to the fact the SI game has elements of choice, so we can not really say its all pure canon now with that being said, of every person in SI game the only person you have no choice in killing is Jess thus that part is canon stated by kirkman and the SI Developers, now using the logic of the admins back in March of 2012 with Shanes page and the re-discussion of it in July of 2012 Jess should be added to his killed victims.
Also congrats on your 1000 edits its a real accomplishment i know how i felt when i got to 1000. 
All the best.
DevynC2 (talk) 04:23, March 30, 2013 (UTC)
made a poll
Made a poll on my blog http://walkingdead.wikia.com/wiki/User_blog:Negan_TWD/The_presumed_dead_status_needs_to_go Negan TWD  Negan TWD (talk) 03:45, November 18, 2013 (UTC)
Dafuq moment of the week
Should I leave the wiki???? How about no! Pigpen077 (talk) 01:27, November 23, 2013 (UTC)
I am truly sorry
Hello It's me Pigpen and I want to say I am sooo sorry about that blog about worst episodes. And yes Ik the blog came out about a week ago but I still feel gulity and this is the only way i can get rid of the guilt. Listen if I offeneded you or anyone I am so so so truly sorry, I did not mean to be well mean overall I don't expect any of you to accept my apology for a while and It's okay I get it, I was a major ass. Well GrimBotch hope we can put this below us. Anyways I gotta get going I need to write my apologys on talk pages for the people I might have been an ass too. Once again I'm sorry. -Pigpen077 (talk) 02:44, November 28, 2013 (UTC) out.