| | |
| --- | --- |
| | Due to recent misconduct, you have been issued a warning for continuously editing poorly on the on the Jimmy page. If you continue your disruptive behavior, you will be blocked for a period of the administration's choice. |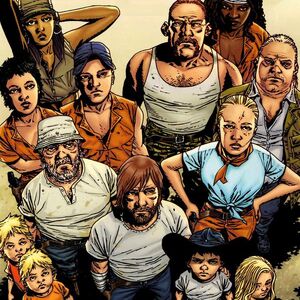 Welcome to The Walking Dead Wiki, THEWALKINGDEADFAN! Thank you for Center for Disease Control
There's a lot to do around here, so we hope you'll stay with us and make many more improvements.
Recent changes is a great first stop, because you can see what pages other people have been editing, and where you can help.
Questions? You can ask on the "discussion" page associated with each article, or post a message on my talk page!
Need more help? The Community Portal has an outline of the site and links to pages to help you learn how to edit.
Please sign in every time you edit, so that we can recognize an established user.
We're really happy to have you here, and look forward to working with you!
-- Conesses133 (Talk) 15:10, January 29, 2012
reverting your edits
Edit
we have now reverted the majority of your edits. I notice two of your edits you mispelled words that were correctly spelled. Your grammar in your additions has been fixed.
and other statements have been removed. please take more care in your editing. Wikiasmikia 20:14, January 30, 2012 (UTC)
Again, please be aware of what you are editing and saying... some of your edits seem kind of pointless since all you did was change one word. As well please watch how you organize and word sentences, you keep breaking up sentences causing a huge amount a fragmented sentences. We appreciate your dedication and efforts in trying to edit but you need to be more cautious in how you say things. Please take more care in your editing. --06abrahb 16:23, February 4, 2012 (UTC)
Ok you have been warned several times about your edits, you keep changing a single word for no reason and now have broken sentences down making the articles have errors and bad English. You have been told to check and make sure your edits are good, I have to keep undoing your work because of this. This is your final warning, please be more cautious with your edits... --06abrahb 00:57, February 5, 2012 (UTC)
Hey my friend made a Walking Dead RPG if you want to join go to my profile, click on blogs and click WD RPG blog and in the comments a guy named Kaffe put a link to the site.
Tyler 23:05, March 25, 2012 (UTC)Tylernerd101
Lol join chat I was eating. -Lukesav1998 01:07, May 3, 2012 (UTC)
Re: Compedium
Edit
Hey, I don't think its necessary, its basically a combination of the first 48 comics right? and we already have the comic issue pages so... and I think the compedium was also mentioned on the Media and Merchandise page anyway. --06abrahb 00:15, May 22, 2012 (UTC)
Please stop creating random blogs Intayla 20:43, May 22, 2012 (UTC)
Comic User
Edit
yeah, if you wanna be a comic user then add yourself to the list and get the template for comic user and i cant go on chat because i have school in the morning so i have to go to sleep - BanishU 22:10, May 23, 2012 (UTC)
I don't know anything about it to be honest, but I categorized the characters based on their last name. -- GrouchMan (My trash can) 18:19, May 24, 2012 (UTC)
I haven't heard of the show no, but a good friend of mine edits here. --

GrouchMan

(My

trash can

) 19:47, May 24, 2012 (UTC)
Character Info Templates
Edit
Okay. So i went onto the revision history and it was all changed to "<". Why did you do this. What were you trying to acomplish because when you did this, all pages with character info boxes had been changed so there was none. - BanishU 20:28, May 24, 2012 (UTC)
Its been deleted - BanishU 14:13, May 25, 2012 (UTC)
Hey, no prob, man. Thx. It was just what I thought was right.
Zombiehunter115 03:33, May 31, 2012 (UTC)
I don't read any of the stories any more sorry, but i have seen some good feedback so i specualte it is a good story. - Liam "BanishU" Michaels 22:16, June 1, 2012 (UTC)
Would you like me to delete part 4 for you. - Liam "BanishU" Michaels 18:40, June 4, 2012 (UTC)
Its been deleted. - Liam "BanishU" Michaels 19:51, June 4, 2012 (UTC)
Not exactly because for all we know, he has not been seen reanimating, it is possible that he was devoured to the point that it might stop the 'waking up' part. If he was not seen reanimate then it stays as dead, if we find him a zombie then his page gets turned undead. - Liam "BanishU" Michaels 05:43, June 18, 2012 (UTC)
No you didn't annoy me and thanks. You too. - Liam "BanishU" Michaels 05:47, June 18, 2012 (UTC)
No because he could turn up dead. Since we haven't seen him for an Issue or 2 then he stays unknown, but he might not even appear in Issue 101, he might but it is not known, for now, we keep it unknown, when we see him again, then he becomes back alive. - Liam "BanishU" Michaels 16:29, June 18, 2012 (UTC)
Hey, I have already seen your latest blog, about the pranks, prank calls wiki. - Liam "BanishU" Michaels 09:57, July 1, 2012 (UTC)
I don't want to sound mean etc... but I really don't see a need for the blog, so I don't think I should, plus, to be perfectly honest, in the nicest way i possibly can, I wouldn't know what to say because I don;t see a need for the blog or wiki, sorry. - Liam "BanishU" Michaels 10:03, July 1, 2012 (UTC)
I might post it here someday. "It's coming!" - "That's what she said!" 05:53, July 5, 2012 (UTC)
Re: Admin
Edit
There are many things that help you become admin.
Good or Many contributions.
Understanding of coding
If you are popular or get along with people to resolve matters.
An understanding of rules and regulations.
Etc....
- Liam "BanishU" Michaels 06:03, July 5, 2012 (UTC)
I am not sure. You could run for chat moderator because you are always on chat. Chat moderators basically stay on chat, watch the conversations, kick-ban any unwanted, uneeded, bad, vandalism talk etc...
- Liam "BanishU" Michaels 06:30, July 5, 2012 (UTC)
You have not hurt my feelings at all. But you are annoying people with inappropriate behavior and comments. You have talked to an Admin like crap, you told Ttowen to "stfu", people find you rude and disrespectful, on your blogs and other people's blogs, instead of agreeing or telling people why you disagree, you put pointless comments, such as: "nu uh". You have been blocked for 3 months, you know what rules or appropriate behavior to use yet you still stay annoying with these comments. You also do these comments to IP users, even know they have not had an account, does not mean you can do it to them because they are still contributors. 3 months is enough time to think about your behavior, change your attitude and frankly, grow up from these annoying comments. But this is not the first time you have been blocked, so you should know better. And I am seriously not bothered if you don't talk to me ever again because I am done with you immature behavior. I will not change your ban or unban you until these 3 months are over. Also, you were on yesterday, you commented on some blogs on everybody's comments. - Liam "BanishU" Michaels 09:50, July 8, 2012 (UTC)
Re: Chat Mod
Edit
You will have to be patient and wait, you may or may not become a mod. 06abrahb will have a look and everntually accept or decline.
- Liam "BanishU" Michaels (talk) 16:13, November 23, 2012 (UTC)
Chat moderator
Edit
Hey there. Sorry I don't really know how that stuff works. I'm more of an admin that does site maintenance and stuff...better off asking User:BanishU about the promotion since he seems to be more familiar with this wiki's policy concerning that subject. Cheers, --Mistertrouble189 (talk) 01:19, November 24, 2012 (UTC)
From a friend
Edit
Hey Dead Ninja. It's me Agent Maroon78. Sorry if I didn't understand what you meant in the private chat. If you wanted to talk about something else, just message me on my page. Hope you'll forgive me.
From:Agent Maroon78 (talk) 04:07, November 26, 2012 (UTC)