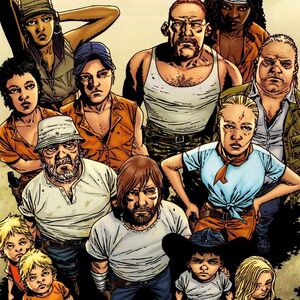 Welcome to The Walking Dead Wiki, RedArcher! Thank you for User blog:Shellturtleguy/Video game episode 3 release date?
There's a lot to do around here, so we hope you'll stay with us and make many more improvements.
Recent changes is a great first stop, because you can see what pages other people have been editing, and where you can help.
Questions? You can ask on the "discussion" page associated with each article, or post a message on my talk page!
Need more help? The Community Portal has an outline of the site and links to pages to help you learn how to edit.
Please sign in every time you edit, so that we can recognize an established user.
We're really happy to have you here, and look forward to working with you!
-- Axel TWD (Talk) 18:21, August 20, 2012
Timeline on Your Page
I know its your timeline and what you think that's on your page but Sandra actually doesn't die on the first day as if you say something certain to Clementie she says she heard her scream a few days ago. So.. just saying. Wtf Is This? (talk) 15:47, December 23, 2013 (UTC)
It just makes sense to me, ok? Plus personally I think it's more accurate then the other timeline we have, I mean come on, sixteen weeks past since episode 2? Kenny specifically said that a week had gone by since then. Plus I remember that moment, even though I didn't ask her, she said Sandra died two nights ago and that would have to be Day 1. So... just saying. --RA (talk) 16:05, December 23, 2013 (UTC)
Your timeline is a little off
You do realize that Christa could not have been pregnant for over 13 months right? So it would not be day 504.