Welcome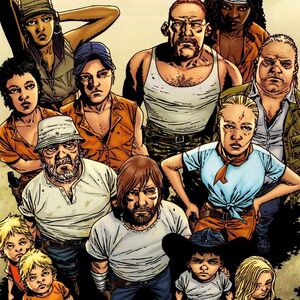 Welcome to The Walking Dead Wiki, Buffymybasset! Thank you for Norman Reedus
There's a lot to do around here, so we hope you'll stay with us and make many more improvements.
Recent changes is a great first stop, because you can see what pages other people have been editing, and where you can help.
Questions? You can ask on the "discussion" page associated with each article, or post a message on my talk page!
Need more help? The Community Portal has an outline of the site and links to pages to help you learn how to edit.
Please sign in every time you edit, so that we can recognize an established user.
We're really happy to have you here, and look forward to working with you! -- Ttowen (Talk) 15:33, November 2, 2011
Re: Pics on synopsis
We used to do that but one of the user's is really good with getting pics and had so many that we decided to create a side Gallery page that has them all and corresponds with the episodes and characters. --06abrahb 19:02, March 12, 2012 (UTC)
WD RPG
Hi a friend of mine made a Walking Dead RPG and if your interested in joining go to my profile and hit blog and hit WD RPG blog and then in the comments a guy named Kaffe made a link to the site.
Tyler 03:02, March 25, 2012 (UTC)User:Tylernerd101
kick ass pic!
wow! File:RickKillsShane2.gif Can you add a source link on that photo page link above please? Wikiasmikia 22:10, March 25, 2012 (UTC)
Norman's gallery
Hi I noticed you replaced a picture on his page with a link to the gallery. That makes sense if there are many pictures, however I noticed that you didn't move the picture you deleted to the gallery. Why was that? I'm going to add it there but I think it would be good, before deleting pictures from pages, to discuss it, and especially if there's a gallery dedicated to it to host it there. +y@talk 08:45, March 28, 2012 (UTC)
i love this site (Amycefai (talk) 23:35, July 19, 2012 (UTC))
Re: Infobox
Ben's box can also be changed to "Dead". QueenBuffy March 24, 2013
All taken care of, thanks.  
Axel TWD (talk) 01:10, March 26, 2013 (UTC)
How many admins are on this wiki?
RE: That thread
Actually, quite the contrary. This was all just an inside joke made about how some homophobes would freak out over Aaron and Eric. I happen to be friends with Katie, and I know this was meant in jest, and she's gay herself. Yes, the thread should not have been made in the first place, but in her mindset, she saw it as merely a joke for our users to laugh at. I don't think reporting her to staff is necessary. We're actually quite capable of handling the users on this wiki ourselves. But, yes, once again I can safely say that she indeed was joking. Thank you.
~ SilentGlaive Knowledge is power 18:37, February 23, 2015 (UTC)
See, the thing is, I doubt hardly anyone saw the thread. And certainly no one will see it now, since it's gone. I'm not worried about the situation, because I try not to worry about things that are likely not happening. If people are offended, then they'll look at the thread and see it was a joke now. Again, Katie's sexuality is known on this wiki, so none should even be offended anyway, because why would a homosexual make homophobic comments? This whole situation has been blown way out of proportions. Little known fact about me, I hate homophobic slurs and try my best to actually defend situations when they are real.
~ SilentGlaive Knowledge is power 18:50, February 23, 2015 (UTC)

Again, you are blowing this entire thing out of proportions. I find your attitude disrespectful to my position here. The thread was only up for a few hours, it has been closed, and formal apologies have now been made to people that saw the thread. The harm has been resolved, and the day should continue on.
~ SilentGlaive Knowledge is power 19:06, February 23, 2015 (UTC)

As I find yours disrespectful (and clueless) as well. Consider this finished, and I hope in the future you see "jokes" like this tacky, immature and wrong. User:QueenBuffy

I should be extremely appalled to bad jokes about it like you to be respectful? No. It doesn't work that way. Clearly, you are way too sensitive to be involved in a matter like this. We strictly stand by our rules, but only when it is actually considered harassment. Not bad jokes. I've stated before I hate homophobic slurs, but I don't go around reprimanding people who only jokes about other people who actually throw around homophobic slurs. I like to be less strict, and more tolerable, so people will feel more comfortable on a wiki like this. You attract more flies with honey, if you will. Please learn the full story of what goes on before coming on here, passive-aggressively telling CamTheWoot that you don't approve of him not saying anything about the thread, and saying that I am clueless and my position here should be questioned. Have a nice day, your highness.
~ SilentGlaive Knowledge is power 19:19, February 23, 2015 (UTC)
That Gay Thread
I noticed you were one of the people who were offended by my joke thread, so I'm leaving this message to apologise. I was mocking the facebook posts and such. I'd see doing a similar thing. And just in case you think so, it's not just me trying to get out of it; ask any regular chat user (or admin, for that matter) and they'll tell you that I myself am gay (and so is RelicRaider, who also posted on the thread, and was in on the joke). If any real homophobia turns up on the wiki, especially the chat which I help yo moderate, I'm the first to speak out against it. Once again, apologies if you were offended, but it was just a joke (that, in hindsight, was probably not the best thing to have done).
Thanks for reading,
Katie Monsieur Thenardier (talk) 18:54, February 23, 2015 (UTC)