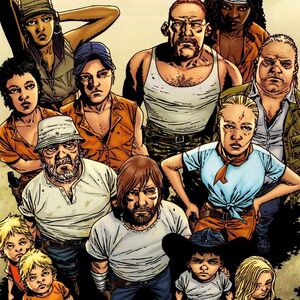 Welcome to The Walking Dead Wiki, Moodyrocks! Thank you for User blog:DCGHJLT/Who will die in the Season 2 final?
There's a lot to do around here, so we hope you'll stay with us and make many more improvements.
Recent changes is a great first stop, because you can see what pages other people have been editing, and where you can help.
Questions? You can ask on the "discussion" page associated with each article, or post a message on my talk page!
Need more help? The Community Portal has an outline of the site and links to pages to help you learn how to edit.
Please sign in every time you edit, so that we can recognize an established user.
We're really happy to have you here, and look forward to working with you!
-- 06abrahb (Talk) 17:28, 11 March 2012
hey moody, guess what i am gonna post the next part today. THEWALKINGDEADFAN 21:17, May 30, 2012 (UTC)TWD
oh, i'm sorry i had written diffrerent outcomes for this part ad uploaded the sloppy copy, THEWALKINGDEADFAN 16:35, June 3, 2012 (UTC)TWDFAN
Stories
I'm planning on finishing the stories fourth part today. The vatos blog will be updated soon.
Pwningwalkers 14:19, June 11, 2012 (UTC)Pwningwalkers
Okay can't wait until the story is uploaded. :D
moodyrocks 16:05, June 11, 2012
Hey I love your storeis, and I believe you like min, so could you post your story part 6?? PLEASE????? THEWALKINGDEADFAN 05:56, July 6, 2012 (UTC)THEWALKINGDEADFAN
I'm on holidays now, I've got parts 6 7 8 9 and some of ten done, however I've hand written the last three so I will post part 6 and 7 around the 16 or 17 of July and I thank you that u like my stories moodyrocks 17:57, July 10, 2012
Hell, just incase you didnt already know that I've stopped writting my other stories, instead I've started a new series on another wiki called 'Undead Fan Wiki' it's called 'Peter's Journey' if you really want to know what happed in the end of the other series then leave a message and I will tell you in a shortened version, I'#m so sorry if you are disapointeed, I just felt like a change :) Moodyrocks (talk) 15:36, August 8, 2012 (UTC)moodyrocks
JSSnippetsStack.push({dependencies:[],getLoaders:function(){return [$.loadFacebookAPI]},callback:function(json){window.onFBloaded(json)},id:"window.onFBloaded"})