Welcome to Mistertrouble189's talk page. Please do your best to use proper spelling and grammar when leaving messages! I will respond as quickly as I can, which is usually a few hours, so give me some time :)
Archives...
Character Template
Hello Mister T can you please unlock the TV character template so I can fix a few things? Thanks. Myelle (talk) 02:39, October 10, 2016 (UTC)
Yes that would be great. Myelle (talk) 01:46, October 12, 2016 (UTC)
Thanks you can lock it back up now. Myelle (talk) 02:10, October 12, 2016 (UTC)
User report
Hey. A user by the name of the of ZukeTheDuke is constantly undoing my edits despite me providing valid reasoning, as well as making attacks against me, as seen here. Can you do something about this? Thanks.  Nicko756 (T•C•E)  16:57, October 10, 2016 (UTC) 
User Renarena111
User Renarena111 keeps vandalizing pages. Myself and other users have had to revert this users edits. Can you please block them? (Natalie j (talk) 20:08, October 10, 2016 (UTC))
Angelica Suarez
Hi, as I was rewatching "Date Of Death." I found a possible picture of Elias Suarez's wife. Here's a picture.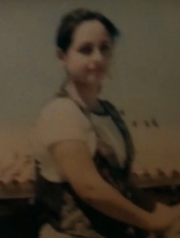 There was also a picture of his two kids, however they were a bit small. :/
Angela (Webisodes)
Hi Mr. T!
As I was rewatching "The Oath" webisode, I noticed Karina mentioned a woman named Angela who was at her survivor camp. And, I'm assuming this is her. Sorry, if the picture is a bit oversized.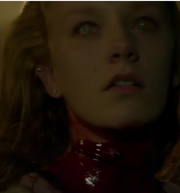 Discussion issues
Hello Mistertrouble,
I am one of the discussions moderators. I'd like to ask for your assistance as you have more experience in dealing with troll than I. We have a user on the discussions page we had to ban in the last few days. This user continues to make alternate account for the sole purpose of trolling the discussions board. We have contacted a wikis staff member to hopefully resolve the issue but if she cannot what would you suggest our next approach be? It's getting out of hand. The ban log for example has been flooded by us having to ban this users alts. Thank you for your time. If the situation is resolved before you reply I will delete this message.
Edit: okay, we will contact wikia. Thank you.
--WARRIOR 6961 (talk) 23:11, October 19, 2016 (UTC)
TV Characters template
Hello Mister T can you unlock the TV series character template once more? there are a couple mislead links in there that I forgot to fix and I want the template to be 'perfect' before the premiere. Thanks Myelle (talk) 19:07, October 21, 2016 (UTC)
You can lock it up again, thanks! Myelle (talk) 23:07, October 21, 2016 (UTC)
Locking not working?
Hey you, the ppl loving the spoiler updates over at Daryl and Michonne are still able to edit (and now seem to be creating new accouunts only to change the status??). Thanks for locking them, but the lock seems to not be working since they can still edit. :/ Mithla (talk) 17:04, October 23, 2016 (UTC)
Template:Characterstv
Hey, could you unlock the Characterstv template real quick?
Thanks, you can lock it up again. --Devinthe66 (talk) 05:04, October 24, 2016 (UTC)
Switching Daryl and Carol
Hey Mister T can you switch Daryl and Carol on the TV Series character template? Daryl is first but Carol appeared first on screen, if not can you unlock it and I'll fix it myself? Thanks. Myelle (talk) 05:58, October 24, 2016 (UTC)
Kingdom
Yeah i did awesome right can't wait for the next episode. --Bailey16 (talk) 12:35, October 24, 2016 (UTC)