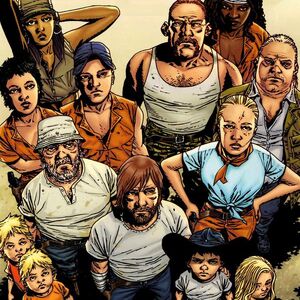 Welcome to The Walking Dead Wiki, Mcase19! Thank you for User blog:Mcase19/Perfume as a cloaking device
There's a lot to do around here, so we hope you'll stay with us and make many more improvements.
Recent changes is a great first stop, because you can see what pages other people have been editing, and where you can help.
Questions? You can ask on the "discussion" page associated with each article, or post a message on my talk page!
Need more help? The Community Portal has an outline of the site and links to pages to help you learn how to edit.
Please sign in every time you edit, so that we can recognize an established user.
We're really happy to have you here, and look forward to working with you!
-- 06abrahb (Talk) 03:55, 2 April 2012
Axel TWD's Fights
Edit
Hi Mcase,
I just wanted to let you know about the interactive fight I made on my profile page. Basically, it is a hypothetical fight between characters in The Walking Dead universe. Wiki members vote on who they think will win and then post why on my talk page. The current battle is Rick Grimes and Tyreese vs. The Governor and Dwight!
Click here to vote. Thanks!
Axel TWD 02:50, June 27, 2012 (UTC)
Combining Blogs
Edit
Hey Mcase,
Just wanted to let you know that I combined your two blogs about interviews. There was no need to make two, you can always update your blogs, especially since the older one was made recently. No worries though, I simply copied the info in the new blog and added it to the old one, with the heading: Update. Feel free to edit it as you like.
Axel TWD (talk) 00:44, October 14, 2012 (UTC)
New Account Blog
Edit
Hey I noticed that you were slightly upset about the blog "New Account". I wanted to let you know that we have regulations here as well and that not all blog posts are approved. The "New Account" blog has been deleted. Let me know if you have any other questions or concerns.
Axel TWD (talk) 02:46, November 4, 2012 (UTC)
yeah, sorry about that. as I was writing it my reaction seemed... excessive. It kind of built up over the course of all the spammed blog posts that serve no function of keeping us informed. I really do hope you'll give me the upvote for the news team. I really would like to contribute more and I really enjoy keeping the wiki informed. I feel like if I could get on the newsteam I would have a bit more authority in trying to clean up the blog posts.