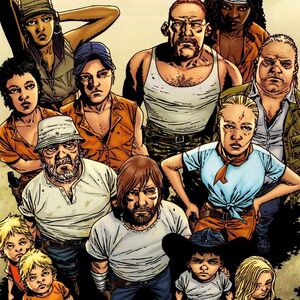 Welcome to The Walking Dead Wiki, JuneCat! Thank you for User:JuneCat
There's a lot to do around here, so we hope you'll stay with us and make many more improvements.
Recent changes is a great first stop, because you can see what pages other people have been editing, and where you can help.
Questions? You can ask on the "discussion" page associated with each article, or post a message on my talk page!
Need more help? The Community Portal has an outline of the site and links to pages to help you learn how to edit.
Please sign in every time you edit, so that we can recognize an established user.
We're really happy to have you here, and look forward to working with you!
-- BanishU (Talk) 17:21, September 29, 2012
Pics
where are the pics. we need them now!
Walking Dead Editor (talk) 04:28, February 18, 2013 (UTC)
You got the women. baby and boy?
Walking Dead Editor (talk) 04:42, February 18, 2013 (UTC)
Actors for Judith
I think that would be a great idea. As long as you include a source (since Judith is never credited on the show), I think a page for her actor(s) would be great. Though are you going to make two pages? Or one? Regardless, go for it :) --Mistertrouble189 (talk) 05:13, February 18, 2013 (UTC)
Great Job
thanks for helping the wiki with Hispanic Family and Judith's actors pages and actors. you are doing great service! hope you can help out more with this wiki! :D
Walking Dead Editor (talk) 14:37, February 18, 2013 (UTC)
Hobo Pics
hey June! long time no see. nice job with pics for Mexicans and stuff :D. so there's this hobo in a sneak peek for "Clear". can you get a pic with your camera. heres the link to the sneak peek The Walking Dead 3x12 Sneak Peek "Clear". thanks! :D Walking Dead Editor (talk) 21:42, February 25, 2013 (UTC)
Anna Correa's Baby
i need a picture of the photo of the inside of Anna Correa's baby. can you do that?
Walking Dead Editor (talk) 12:07, March 2, 2013 (UTC)
Hey JuneCat, I made a MiltonFan template if you'd like to have it put on your page.
ZoraLink10nLink (talk) 16:52, April 20, 2013 (UTC)