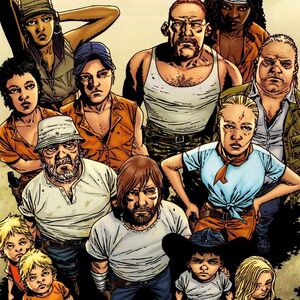 Welcome to The Walking Dead Wiki, Gboy4! Thank you for Ben Paul
There's a lot to do around here, so we hope you'll stay with us and make many more improvements.
Recent changes is a great first stop, because you can see what pages other people have been editing, and where you can help.
Questions? You can ask on the "discussion" page associated with each article, or post a message on my talk page!
Need more help? The Community Portal has an outline of the site and links to pages to help you learn how to edit.
Please sign in every time you edit, so that we can recognize an established user.
We're really happy to have you here, and look forward to working with you!
-- BanishU (Talk) 22:17, November 6, 2012
Re: Language on the wiki
No, that kind of language is not allowed. Thank you for bringing it to my attention. I will speak with him. I hope you're not too put out by it.
Shellturtleguy (talk) 02:46, December 19, 2013 (UTC)
I have left him a message. And thank you for not responding to him and potentially causing an argument. Reporting it to an administrator was the right thing to do. If you have any comments, questions, or concerns, feel free to let me know on my talk page.
Shellturtleguy (talk) 02:55, December 19, 2013 (UTC)
hey why did you undo my edits to those characters pages?? they aren't determinant. determinant means dead or alive. the characters can be alive or unknown
1. Sign your comments. 2. Determinant means that their appearance (in regards to the episode) or status (in regards to the character) depends on the player, alive/unknown counts. 3. You should have started a new topic. Gboy4 (talk) 00:43, August 28, 2014 (UTC)
if determinant means their status can be depended on the player, then they is their a status "unknown" like why do we use the term "unknown" for statuses? if we can just put determinant
1. Sign.Your.Comments. 2. I'm not sure what you just said but if you are talking about the family then they are determinant because they are alive if you let them in but if you make them leave they are unknown. Gboy4 (talk) 00:55, August 28, 2014 (UTC)
never mind u didnt get what i said but i understand why some characters statuses are determinant (meaning alive or unknown) but thanks anyways