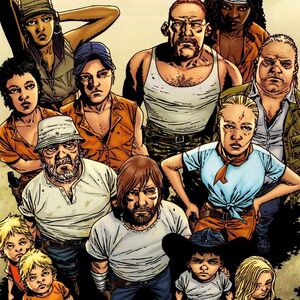 Welcome to The Walking Dead Wiki, DarkJaguar124!
There's a lot to do around here, so we hope you'll stay with us and make many more improvements.
Recent changes is a great first stop, because you can see what pages other people have been editing, and where you can help.
Questions? You can ask on the "discussion" page associated with each article, or post a message on my talk page!
Need more help? The Community Portal has an outline of the site and links to pages to help you learn how to edit.
Please sign in every time you edit, so that we can recognize you as an established user.
We're really happy to have you here, and look forward to working with you!
SilentGlaive (talk) 08:37, March 7, 2014 (UTC)
RE: Sarah images
The images uploaded are fitting for her infobox, but I do not believe they would fit in the box for the front page. Thanks for asking.
~ SilentGlaive Knowledge is power 18:29, May 17, 2014 (UTC)
RE: Which Image
I say, keep the first image. The lighting is considerably better.
(T|B|C) 22:40, June 21, 2014 (UTC)
Re: Images
Hey, don't worry about it. I didn't even notice at the time, and it's not like I have sole ownership over that stuff. Feel free to use 'em if you want. Anyways, I appreciate the sentiment! Corkeyandpals (talk) 17:24, July 18, 2014 (UTC)
RE: Image and Age
Out of the four, I'd say NGB Luke Firepit.png is the best. As for Eddie and Wyatt's ages: It's not difficult to believe they're in their 30's, I've met people in their 50's who act like that. Also Eddie told a story about one of his girlfriends, didn't he?
(T|B|C) 11:10, December 29, 2014 (UTC)
RE:Sam's Death?
Hey, I haven't played any of the video games except for season 1, so I can't really help you on this topic. Sorry. Maybe open a thread about it on the forums? --Mistertrouble189 (talk) 15:51, April 27, 2016 (UTC)