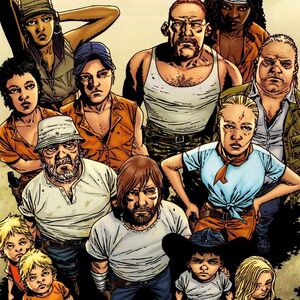 Welcome to The Walking Dead Wiki, Corkeyandpals! Thank you for The Herd
There's a lot to do around here, so we hope you'll stay with us and make many more improvements.
Recent changes is a great first stop, because you can see what pages other people have been editing, and where you can help.
Questions? You can ask on the "discussion" page associated with each article, or post a message on my talk page!
Need more help? The Community Portal has an outline of the site and links to pages to help you learn how to edit.
Please sign in every time you edit, so that we can recognize an established user.
We're really happy to have you here, and look forward to working with you!
-- BanishU (Talk) 00:00, January 11, 2013
Notable Walker Video Game Edit
Hey man,
I do appreciate the edit you did glad to see I' am not the only one actually watching over the Notable walkers. I wasn't sure on deleting the motel walker, glad you did though, but anyways I have a quick question about your edit. Why, or what was the reason for the deletion and the restoring of the pictures? I mean, I' am not upset of this, just confused at the matter? Why did you delete the pictures and replace them with the same picture? I don't see a or any reason for this? Could you explain this to me, cause I' am honestly confused by this?
MaDrummer (talk) 05:20, June 26, 2013 (UTC)
Oh yeah, no problem, that's ok, I just didn't notice any change. At first I thought maybe you thought it would add up to your edits (found that out the hard way, haha). But I realized you have been on several other wiki's and, yeah I wasn't sure. But this is alright, I don't mind, just didn't see the difference :p
MaDrummer (talk) 00:58, June 27, 2013 (UTC)
Re: Locked Page Additions
Is it at all possible to make/submit additions to some of the locked pages on the wiki? For example, if I wanted to add an entry to Kenny's relationship section, could I post what I wanted to add in his talk page and have an admin look it over and add it or something along those lines? Or are those pages just permanently off-limits?Corkeyandpals (talk) 21:29, July 15, 2013 (UTC)
Hey Chris, 
Thanks for messaging me.  Typically, that would be a good idea, but I have seen enough of your work to trust you as a user.  I have unblocked the page and you should be able to edit it now.  Glad you're working on the relationship sections!  
Additionally, I'm glad you mentioned me because I have been meaning to talk to you for a while.  I want to thank you for all the work you're doing in regards to the Video Game.  Your help is greatly appreciated.  I also have a project for you if you would be interested.  I'd like to order the video game episode galleries in chronological order.  If you could start with the DLC stories, (Vince's story, Wyatt's story, etc.) that would be great.  Then you could move on to the season 1 episode galleries.  
If you are interesting in having staff titles on the wiki, I could arrange that.  I'm thinking Video Gamer and Visual Editor would fit you well.  Let me know what you think about all this.  Thanks again. 
Axel TWD (talk) 22:09, July 15, 2013 (UTC)
Additionally, I was wondering if you thought if it would be a good idea to do something similar with the character galleries, except they would be split up by episode/story so they are easier to navigate.  Corkeyandpals (talk) 21:56, July 16, 2013 (UTC)
Hey I apologize, I forgot to respond.  Yes, that's spot on.  That's what I was planning next.  Feel free to begin! 
Axel TWD (talk) 00:21, July 19, 2013 (UTC)
VG Galleries Update
Hey Axel,
I've been making good progress on rearranging the video game character galleries, but BanishU has gone through them and changed them to just listing the season instead of the individual episodes. Would you like me to go by this model instead? In my opinion, it'd be easier to navigate if they're separated by episode, but I'll go by whatever you say. Corkeyandpals (talk) 00:09, July 21, 2013 (UTC)
No, carry on and seperate them by episode.  Thanks a lot for the help, really appreciate it.  
Axel TWD (talk) 21:47, July 21, 2013 (UTC)
Hey, sorry about that. I was changing all the galleries and didn't know if it was by episode or season, but...I think the episode is "400 Days", and not "Russell's Story" etc...they are just parts in the game, if they were released like Season 1, then it would be an episode.
Re: Image Formats
Hey Axel,
Do you know if it's possible to upload a new version of a picture in a different format? For example, uploading a new version of a .jpg picture in .png format? I've discovered that of few the pictures I've added don't look as good in .jpg form, but I don't want to clog the wiki with identical images. Corkeyandpals (talk) 16:18, July 27, 2013 (UTC)
Yes, you should be able to do that without a problem.  However, if you get a message telling you that the image has already been uploaded, simply replace it with your new image.  Let me know if you need additional help.  
Axel TWD (talk) 18:04, July 27, 2013 (UTC)
Re: Thanks
No problem, man. I've finally found out how to get perfect box images, so I've been doing it a lot now :)
RazorWolfz (talk) 21:00, July 29, 2013 (UTC)
New Project
Hey Chris, 
I'm working on a new project and could use your help. Do you have an email I could contact you on?  Great job with the video game galleries by the way! 
Axel TWD (talk) 20:21, August 19, 2013 (UTC)
Sure, I'd be happy to help! I've sent an email to the address you have listed on your user page, you can contact me through that. Also, I don't know if you saw the last message I left on your talk page here, but I noticed a small issue on the 400 Days story pages that I could use your input on. Corkeyandpals (talk) 23:37, August 19, 2013 (UTC)
Picture qualities
Hey man, I have noticed that your images have really good quality. I'm just wondering where you get them from? It would be really helpful if you could tell me! :) RazorWolfz (talk) 17:30, September 2, 2013 (UTC)
Thankyou
Alright, thanks. My game doesn't work anymore, so I'll have to keep screencapping YouTube videos. :P RazorWolfz (talk) 18:19, September 2, 2013 (UTC)
Reminder
Hey, 
I just wanted to remind you that when you add photos to the wiki, don't forget to add it to all the galleries it belongs to.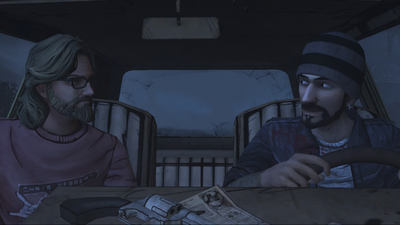 For example, this picture should go in the Wyatt Gallery, the Eddie (Video Game) Gallery, and the Wyatt's Story Gallery.
Please do this in the future. And of course, thank you so much for adding the pictures in the first place! 
Axel TWD
(talk) 01:44, September 6, 2013 (UTC)
Hey Corkey, I am going to take some screenshots from the game like you, but I don't know how to screenshot. I always get a black screen when I screenshot with my Print Screen button, so I was wondering how you do it? :)
- RazorWolfz (talk) 18:57, September 7, 2013 (UTC)
Hello, again! Yes, actually the printscreen button works again, so that made it 100x easier! (Had to redownload the game for some reason...) anyway, I'll be continuing my project tomorrow.
- RazorWolfz (talk) 22:08, September 7, 2013 (UTC)
Re: Train Station 
Hey Axel. I recently created a page for the Train Station from the Video Game. Do you think you could add it to theVG Locations navbox?
Corkeyandpals (talk) 23:00, October 11, 2013 (UTC)'
All done, no problem. Page looks great by the way, thanks. 
Axel TWD
(talk) 16:47, October 12, 2013 (UTC)
Melee weapons
how did you make the melee weapons even can you tell me how?
Re: Advice
Sorry for the late reply. I see your point, that the galleries should be linked to the stories of the "400 Days" DLC, but the way it's formatted, I'm not sure. I might have a think about it, and see how to sort it out. Thanks.
- Sam T. Buckley "TheSamBuckley"™ (talk | contribs) 15:52, October 26, 2013 (UTC)
Weapons pages
I am not sure what the protocol is on making weapon pages but I remember that BanishU had a big role with them. Would be best to consult him as well. I don't have a problem with the common melee pages so I guess go for it. --Mistertrouble189 (talk) 22:30, November 4, 2013 (UTC)
Re: Stephanie and Save-lots
Hey Axel, just a few things for you. When you get a chance, could you unlock the Stephanie page? I have some additions I'd like to make, and I have to imagine that whatever editing war was occurring has to have cooled off by now. Also, I'm working on a Save-Lots page in my sandbox, but I'm not sure if it's worth adding to the proper wiki. Could you take a look at it when you have some free time and let me know if I should? Thanks in advance. 
Corkeyandpals (talk) 22:30, October 29, 2013 (UTC)
Thanks for fixing that. Corkeyandpals (talk) 01:18, November 5, 2013 (UTC)
Sorry about this late response, I've been very busy lately. You probably noticed I unlocked the Stephanie page, so I hope you were able to do everything you wanted to do there. The Save-lots page looks great, feel free to publish! 
Axel TWD
(talk) 01:40, November 12, 2013 (UTC)
HQ TV Series images
Hey, I see you get quite good quality on your images from the TV Series, and I was wondering where you get it? Like, what website are we talking about? Thanks :)
RazorWolfz (talk) 13:50, December 2, 2013 (UTC)
Re: New Firearms
Hey Axel. When you have time, could you add some of the new gun pages to the Firearms and Explosive Weapons page and Template? I believe they are: Knight's Armament SR-15, M1 Carbine, Marlin Model 1893,Remington 7400, UTAS UTS-15, and Walther P22.
Thanks! Corkeyandpals (talk) 06:49, December 14, 2013 (UTC)
All done. Good to hear from you! I hope everything is going well for you. 
Axel TWD
(talk) 08:14, December 14, 2013 (UTC)
Categories
Hey, Corkey. I've noticed you've been doing us all a favor and helping out with the image categories. So, I wanted to request something from you; if you wouldn't mind helping adding the "Images" categories into the images of the cast galleries and TV series, as well. I realize you mainly stick with the video game, but it would be a huge weight off of our shoulders if you can offer your assistance. SilentGlaive Knowledge is power 07:22, January 4, 2014 (UTC)
RE: Locations 
Hey, Corkey. I have added the locations to the template and have fixed the broken Season 2 link on there. Now, I actually wanted to speak with you about something. Recently, we added a Video Game characters tabber to the main-page (See: The Walking Dead Wiki). If you scroll down to the Video Game characters tabber section, you can see a lot of the images are not the best and some like Alvin's can't be cropped to fit into the box. I was wondering if you could gather some images for all of the characters and crop them to fit? For the images, just make sure it is only that certain character alone in their picture and that another character is not in the image somehow. Clementine's current one is a good example, but it still needs updating too. Could you do this for me? It would be a big help. Just send me the images when you are done and I will add them to the main-page.
Thanks -- Gravelord (talk) 01:46, March 8, 2014 (UTC)
Alvin's picture
Following up on the picture for Alvin on the front page, the one you have uploaded is perfect. Thank you for doing that for us.
~ SilentGlaive Knowledge is power 02:41, March 8, 2014 (UTC)
Yeah, as Glaive said; It is a perfect picture. Re-sizing them down to the box's size would be ideal, but if i doesn't work, leave them large. The main-page boxes are quite picky one sizes, so it would be best just to re-size them.
Thanks -- Gravelord (talk) 02:47, March 8, 2014 (UTC) 
RE: More Locations
Tis' done Corkey. I placed Wellington at the end because it has only been mentioned, not seen as of where the game is up to. Message me if you need anything else doing.
Thanks -- Gravelord (talk) 01:05, March 22, 2014 (UTC)
Images
Hey Corkey, I see that you are uploading images individually, which takes a lot of time. I'm not sure if you're aware, but there is a page called Special:MultipleUpload which allows you to upload, as it says, multiple files at a time (I believe it's 10). I hope this helps out and makes uploading easier for you. --InsaneHippo (T|B|C)
Unnamed Carver guards
Is it really necessary to make pages for the Unnamed Guards yet? I mean it is possible they'll just quickly walk past the camera once, why don't you either wait till release and see if they do anything to warrant a page or make a Background Survivors page for Carver's group like the Woodbury Survivors page. Thanks Rick123Axel (talk) 17:44, May 9, 2014 (UTC)
Images
Hey Corkey. I just want to say sorry in person about taking your images from your Image Repository page one day. I just panicked and I didn't realize how wrong it was for me to do that until CamTheWoot left me a message about it. It was a mistake and I am deeply sorry. BTW, I am a fan of your images and it's a real honor to have one of my images on your Repository page (The one where Sarah points a gun to her Head and it clicks). You are welcome to take any images of mine and put it on that page. Hyped to play Amid the Ruins and can't wait to see a lot of images posted when the episode comes out next week. DarkJaguar124 (talk) 07:34, July 18, 2014 (UTC)
WHAT APP DO YOU USE?
hey, Corkey. i was just wondering what app do you use to take the screenshots from the video game? i use snipping tool but the app doesnt allow me to take a screenshot from the in game without setting the game to be non-full screen. thus, the resolution of the screen i snapped aint that good, and small compare to yours. cna you please tell me what app do you use? thanks!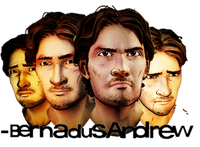 13:12, July 28, 2014. (UTC)
Favour
Hey, Corkey. 
I've noticed your skills with taking photos of the game, so I would like to ask you a favour. Could you please make images that fit the game character boxes on the main page? I've been trying to do so myself but I make them come out in shoddy quality, best thought that you could do a better job than I.
If you could do this task it would be much appreciated. The characters that need a good box pic are Clem, Kenny, Bonnie, Luke, Mike, Jane, Rebecca's baby, Vitaly, and Maud and I ask that all the photos come from Amid The Ruins.
Thanks. 
GRANDMASTA (talk) 08:53, August 7, 2014 (UTC)
Oh, sweet. Those are perfect. Thanks.
GRANDMASTA (talk) 22:31, August 7, 2014 (UTC)
Which file was this in?
The image you uploaded called "NGB Russians' Role Switched" which files did you find that in? Kryalis (talk) 16:55, September 11, 2014 (UTC)
Pictures
Hi. Could you upload pictures of this characters? (Victor, Ralph, Winston, Bennett, Lowell, Tyler, Vera, Tisha, Hank and the Save-Lot Bandits). User:GeneralStranger
Locations info
Why remove the "status" section? It is like characters being alive, dead or undead.--Gonzalo84 (talk) 19:55, November 4, 2014 (UTC)
Choice Templates Pictures
Hey dude, can you give some pictures to make choice templates? This ones with [KennyWentWithLee] a picture of Kenny when Lee is about to ask the group that who should come with him to find Clementine in Season 1 episode 4, [Didn'tStopClemEatMark] a picture of Clementine eating Mark's legs in Season 1 episode 2. Upload them in my talk page.
Dracula GMAN (talk) 17:59, November 17, 2014 (UTC)
Thanks for the shot you gave me. I forgot to say that you should give me a shot with Lee going alone to find Clementine too.
Dracula GMAN (talk) 09:03, November 19, 2014 (UTC)
Hey Cork, you haven't forgotten about your job about what I told you what photos should make and give them to me, have you?
Dracula GMAN (talk) 14:41, December 27, 2014 (UTC)
Hi there!   You've got a lot of great pictures. Would you be okay if I borrow some of them for the character galleries?Loaderbot224 (talk) 19:46, January 2, 2015 (UTC)
Fan Studio
Hi Corkeyandpals,
I tried emailing you the other week in regards to an exclusive opportunity; hopefully, it'll be of interest! In conjunction with Telltale Games, Wikia will be working to create a unique experience for visitors of our Game of Thrones community, specifically the pages centered on the episodic Game of Thrones: A Telltale Game. I wanted to see if you'd be interested in joining us.
I'm contacting select fans of both the HBO series and the Telltale Tale Games series to see if they'd like to help with this initiative, and your Wikia activity identifies you as a great prospect. Participation in the project will involve sneak peeks at upcoming episodes, exclusive access to game developers, and other great perks not available to the general public.
Interested? If so, the first step is to join us in the Wikia Fan Studio -- the virtual environment where our project will take place.
You should've already received an invitation to register; if you haven't, please do let me know and one will be sent promptly. Even if you aren't interested in this particular project, registering with the Fan Studio will allow us to match you with other upcoming projects that could be a great fit!
Remember, you're never under any obligation to participate in a project, and the info you provide is kept in accordance with our privacy policy.
And please do refer any other Wikia community members you think might be a fit for this program by passing along a link to their user page. We value your opinion and want to insure the best candidates are invited into this project.
Let me know if you are interested or have any questions,
Knakveey (talk) 00:21, January 16, 2015 (UTC)
Vitali Images
Hay could you try to get more images of Vitali? 

Talk 00:02, January 27, 2015 (UTC)
Staff
IT was wondering if I could nominate you for the videogamer staff position. If you could reply A.S.A.P that'd be great. Some monkey (talk) 23:37, May 6, 2015 (UTC)