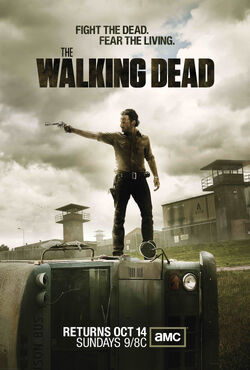 Here are a few Season 3 predictions of mine - getting ready to marathon Season 2 for the premiere! :)
I think we're all expecting Woodbury to be the major story arc in season 3, and I'm expecting it to wrap up with a final, bloody showdown in the final episode. Several current main characters will probably be killed off in the season finale, including Lori
I think Merle's return as a member of Woodbury will be a triple-cross - in that he will attempt to convince Rick he's infiltrated Woodbury in order to gain an upper hand for his brother and the group, but with the intention of then betraying them to The Governor.
Rick will probably lose his hand at the "hands" of Merle - an eye for an eye...
Will Merle successfully exact his revenge on Rick this season?
---
---
Ad blocker interference detected!
Wikia is a free-to-use site that makes money from advertising. We have a modified experience for viewers using ad blockers

Wikia is not accessible if you've made further modifications. Remove the custom ad blocker rule(s) and the page will load as expected.