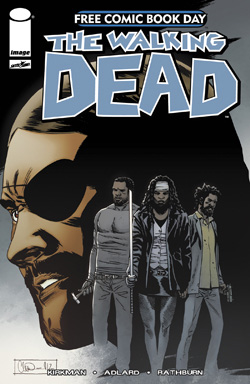 First of all...hello! I'm Wolverine1717 and i'm new here but i'd like to say hello.
But what this blog really is about is Free Comic Book Day! Today, May 4th, is Free Comic Book Day. That is where comic book stores around the world put out a pre-selected group of comics and let people have some for free! Usually there is a limit of 4-6 comicsa person but they go fast so if you haven't headed to your local comic book store... GO NOW! I say this because this year along with some Batman, X-Men, etc. there is a Walking Dead Comic Book for FREE!
This comic book is a special "Free Comic Book Day Edition" made by Robert Kirkman and Charlie Adlard! Inside it features four mini-stories, three of which have been released already. Some of you may say, oh then it's not that special, but this is the ONLY comic book that has all of these in one book!
In this book is:
Michonne special 6-page story
Morgan/Duane special 6-page story
The Governor special 6-page story
Tyreese special 6-page story (BRAND NEW!)
This Tyreese story is really cool. It is only 6 pages and I won't spoil anything but the comic does feature familiar faces and a familiar item.
I went at 9:30 this morning and the store opened at 10:00. I managed to pick up three copies of this Walking Dead story. I will help create pages and edit for the stories later. I HIGHLY recommend picking up this book because it won't be available much longer!