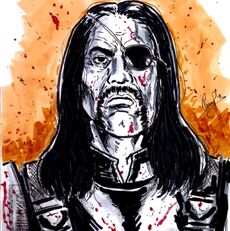 Fearnet.com:
During the West Coast "feed" of the episode, Writer and Executive Producer, Glen Mazzara (@glenmazzara) will be tweeting live and providing commentary, including special behind-the-scenes tidbits.
On Monday, March 19, Mazzara will be also hosting a special Twitter Q&A to answer fans' questions about The Walking Dead. To participate, all you need to do is sign into Twitter and then insert hashtag #walkingdeadchat. When asking a question, make sure to use the hashtag #walkingdeadchat, so Mazzara will be sure to see it.
Mazarra will be answering questions for 30 minutes starting at 7p.m.PT/10p.m.ET. If your question does not get answered, don't worry, he will be posting additional answers to fans' most popular questions throughout the week.
Why not we all pull together two top questions to ask? If we all ask the same 2 questions in different ways, there is a good chance we will get an answer.
Please respond right away: which question do you want? We can then vote in a poll on your question here.
Personally, my big question is Will the twins, Ben and Billy ever be in the television series?
As you recall, in the comic book, Ben and Billy where the twin children of Allen and Donna. Ben shot to death his brother Billy, then Carl shot Ben to death.
Should we ask Glen Mazzara if Ben and Billy will appear in the television show?

 
Should the community ask Glen Mazzara if T-Dog will be a bigger focus in season 3?

 
Should the community ask Glen Mazzara what happened to Morales and his family?

 
Should we ask Glen Mazzara if T-dog is the television version of Tyreese?

 
Should we ask Glen Mazzara what happened to the Vatos?