12-11-13 ( Philippine Time )
Blog Enrtry # 26
CODE: W.Maimer - (BE26)
(Stop! You are not Allowed to Comment in this Blog Post. This has been Re-Updated for Archiving)
"The Latino Mechanic"
- WalkerMaimer, Jonin, SL, MMf, RWr
From the Maimer
Salutations,
Hi Guys, WalkerMaimer is back again to give you my blog about "Julio".
Here are some few things that all of you should keep in mind:
I am sometimes NOT grammatically correct so pardon me.
Off-Topic is allowed
No violence within the blog (Offenders shall be reported to the Admins).
DO NOT BASH MR. CIRILO, be as civilized as possible in posting comments.
Have a friendly and healthy debate.
Do not hesitate to express your thoughts, let it all out.
Enjoy! =D
Who is Julio?
Julio is a survivor and a resident of The Prison, It is unknown who brought him there and who he was with during the time skip. Along with the new residents, he enjoyed a life safe behind the fence until a deadly flu began to spread in the prison counting him as one of the infected.
Fortunately, with the help of the scavenging team he was able to recover from the flu and the next day was among the prison survivors who fought the governor, he most likely perished in the assault.
Julio is portrayed by Santiago Cirilo.
I like

I must say he is more useful than Beth in the Assault, killed some Governor Miltia then dies. Heck, even he caught Negan's attention. And the bullet that should've gotten either Maggie or Glenn.....he took it, though it's by fate's will he should be thanked.
I dislike
No lines and the character does not have anything to stand from not even a box, Yes, other characters that suffered development back logs should be on top, but come to think of it that David is mentioned in more episodes that he has.
The Fate of Julio
This "rewrite" does not intertwine with what I wrote about Milton. Now, In the original version Julio appeared very late ("Internment"), and died in the mid-season finale, two episodes prior to his introduction.
So, I wanna give him a platform and established a bit by the time he dies.
Season 4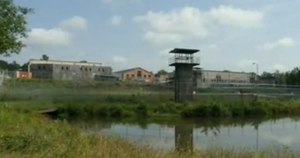 "30 Days without an Accident"
Seen with Karen killing walkers in the fences, having a feel-good convo with David, his bestfriend, and flirting with Chloe.
"Infected"
Helps the residents of Cell Block D escape while the rest kills off the walkers, was saddened to see Chloe die. Karen said that Julio is accompanying David, who is also seen showing symptoms of the flu.
"Isolation"
Enters Cell Block A, already showing symptoms.
"Internment"
Same as the original.
"Too Far Gone"
Same as the original.
"Part B"
This is just optional, If you guys thinks that he dies then go for it or if you still believe he survived then read on.
I could see him dying at the hands of either the Hunters as one of their "chow chow, nom nom" or die in the attack by the bandits ( Nobody mentioned the rapists ).
---
( Correct me if I'm wrong here. )
My perception on Julio's death. To be honest he is dead, He is obviously shot in the back but did we ever consider the internal organs specifically the lungs?, Judging by my observation on the bullet's point of entry, it's clear that the bullet punctured the lung.......that's a big "Uh - Oh"', It's a miracle if our super Latino friend survives, if he does then that's something to look forward to.
For short, Dead.
---
Message
Here is my message to the person who gave life to Julio, Santiago Cirilo.
I know your lurking in the halls of our Wiki in an Anon's form. LOL. We just wanna wish you well in your endeavors and may our creator give you more blessings. You can never tell your wish might come true.
Up Next
Up Next will be a shorter blog of this about....Merle Dixon.
Poll
Do you guys agree in the overhaul I did on Julio's fate?
Closing
I am Closing this blog with unending gratitude in read my blog about " The Latino Mechanic " Please do not hesitate to leave your comments down below, You have my assurance that it will be respected, This is WalkerMaimer telling you to have a Great Day and Stay Cool.
Here is my e-mail guys: walker.maimer1219@gmail.com