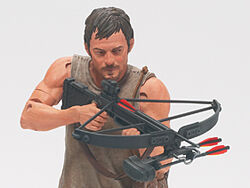 You've read the comics, you've seen the show, now are you ready to play with the toys? According to a report on MTV.com, new images of the upcoming Walking Dead toy line have been revealed. The toy line is being produced by McFarlane Toys and are expected to make their premiere at Toy Fair 2011.
These new preview images feature the characters Daryl Dixon, as played by Norman Reed in the AMC series and a Zombie Walker figure.
The specs on the Daryl Dixon figure as summarized by McFarlane as "An abrasive survivalist, and brother of the outspoken racist Merle, Daryl Dixon is an all-new character created specifically for the hit AMC television show. Our figure of Daryl features the exact likeness of the actor, taken from a 3D scan of Norman Reedus himself. Figure comes with crossbow, hunting knife, fire axe, pick axe, and even a string of squirrels. Daryl goes perfectly with the Zombie Biter figure, also in The Walking Dead Television Series 1."
McFarlane also went on to describe the Zombie Walker figure as, "This memorable Zombie Walker, clad in a dirty business suit, was encountered by Rick during his first excursion into Atlanta. Upon Rick's arrival, the walker rose from the wreckage of a city bus and followed Rick to an abandoned tank. This figure features all the attention to detail that McFarlane Toys is known for. Plus, like all of our The Walking Dead zombie figures, the Zombie Walker features unique playaction for even more fun. This one includes a special wind-up feature, so your Zombie Walker will actually walk!"
The toys are expected to arrive on your shelves in November, just in time for Season 2 of the series.
Gallery
Source