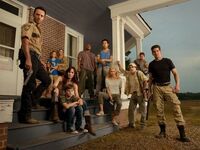 Prepared to see more glimpses of The Walking Dead (TV Series) Season 2? Then you should be delighted because a new promo video has made it's way online. The video features plenty of zombie smashing, guns, and intense getaways including one on a horse!
Also released, even though less exciting, from Season 2. What do you guys think about the cast photo and the new promo?
Video
Source
Ad blocker interference detected!
Wikia is a free-to-use site that makes money from advertising. We have a modified experience for viewers using ad blockers

Wikia is not accessible if you've made further modifications. Remove the custom ad blocker rule(s) and the page will load as expected.