So is the big new threat on
The Walking Dead
Season 4
… Mother Nature?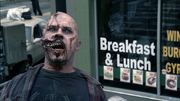 We've been told it's not zombies and it's not other people, so one of our guesses was weather/a natural disaster. Season 4 is featured in Entertainment Weekly's new Fall TV Preview, and there's a surprising tease from (usually) spoiler-phobe writer/producer Robert Kirkman.
Here's the portion of the story, from EW's hard copy: "The survivors will have to deal with a dramatic increase in the number of attacking flesh-eaters, but also a mysterious new threat that will strike them unexpectedly. 'Mother Nature herself is actually closing in on these people,' teases exec producer Robert Kirkman."
That's all on that subject, but doesn't it leave you thinking he just spoiled the big threat? Maybe? Yes? No?
In addition to saying it wasn't even zombies or other people, new showrunner Scott Gimple previously added to The Hollywood Reporter, "It's someone we haven't seen before. Someone unusual; you can't stab them in the face, you can't reason with it. It's a force that would be dangerous in this world and in the world of The Walking Dead, it's terrifying."
You can't reason with a natural disaster, and it would definitely be dangerous and terrifying. We did have that as an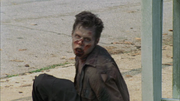 option on our possible threat list, saying "Mother Nature is a killer. What if she turns on the group with storms, a flood, or some other unforeseeable event?" You could also consider insects or animals part of Mother Nature's domain. Maybe bugs carry some kind of virus. Or would that be too crazy? Not to be total nerds about the weather angle, but TWD is set and filmed in
Georgia, and according to the state's Ready Georgia information, "Georgia regularly faces many types of natural disasters including hurricanes, tornadoes, severe storms, wildfires and floods." The intel says, over the past 50 years, more than 1,430 tornadoes were reported in Georgia, including 17 in 2012. March, April and May are historically the most active tornado months. The most common type of natural disaster in Georgia is a thunderstorm, and that can cause widespread damage and floods.
So … expect Mother Nature to bring the hammer down on our beloved survivors — in addition to the hungry zombies at the prison fence, The Governor out there on the loose, and possibly a murderer killing people "in cold blood" in the prison. Sounds fun!
The Walking Dead Season 4 premieres Sunday, October 13 on AMC.