Had to watch the episode a couple times to be certain. But im almost positive that the comic on top that michonne gives carl is actually issue 100 from the walking dead. the variant cover with rick and michonne standing over some zombies. If you can watch the episode in hd, try looking it over.
What do you think?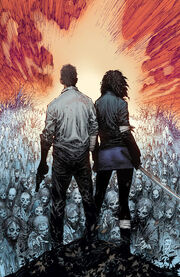 Ad blocker interference detected!
Wikia is a free-to-use site that makes money from advertising. We have a modified experience for viewers using ad blockers

Wikia is not accessible if you've made further modifications. Remove the custom ad blocker rule(s) and the page will load as expected.