Comments

5
Release Date Change and New Cover Art for TWD: Survival Instinct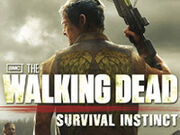 The Walking Dead: Survival Instinct was set for release on March 26th, but the release date is now one week earlier for most platforms. Both Gamestop and Amazon are showing a March 19th release date for the Xbox 360 and PlayStation 3 versions of the game, while a Wii U version is still planned for March 26th. No reason has been officially given for the date change, but we expect it has to do with BioShock Infinite being released on the 26th.
If you're planning on pre-ordering the game and are interested in bonus items, there are two exclusive offerings currently available in North America. Amazon.com is offering the Walker Execution Pack, which includes exclusive weapons: a survival knife, kukri, combat axe, machete, and an advanced machete. Those who pre-order the game from Gamestop can dress like Daryl when they receive their Walker Ear keychain. Gamestop is also offering an exclusive game mode, referred to as the "Herd Mode Challenge": "
The dead need no rest – will you? Take on endless waves of walkers, each more dangerous than the last in the all-new Herd Mode. Each wave of undead held off brings with it a new outbreak of hungry biters and new opportunities to rack up an even higher score. How many frenzied flesh-eaters can you survive against before joining their ranks?"
If you live outside of North America or don't pre-order the game, we're assuming that this will be available as paid DLC after the launch of the game. International game retailers will likely have their own pre-order offering as well. We haven't seen an official gameplay trailer yet, but we're likely to see a flood of new content from the game in February and March.
Here are more details on the game from the recently issued press release, along with the new cover art:
"…AMC and Activision announce The Walking Dead: Survival Instinct is scheduled for release Tue., Mar. 26 in North America and Fri., Mar 29 in Europe for the Xbox 360, PlayStation 3, Wii U and PC. (Pre-order The Walking Dead: Survival Instinct at GameStop.com) The Walking Dead: Survival Instinct is a first-person action survival game that brings to life the authentic, heart-stopping horrors of the AMC Emmy® award-winning TV series The Walking Dead. In the game, players assume the role of the crossbow-wielding survivor Daryl Dixon (voiced by Norman Reedus from AMC's hit TV series) alongside his brother Merle (voiced by costar Michael Rooker). Together, they embark on a haunting, unforgiving quest across the Georgia countryside.
Players will need to tread carefully throughout this grim adventure, as resources are scarce and hope even scarcer. From scrounging for weapons, food and water to surviving encounters with the undead and the living, gamers will have to use their wits to stay alive in this terrifying, post-apocalyptic world. Do you risk using stealth to go in close for a quiet kill, attack from a distance and hazard attracting a swarm of walkers, or avoid the battle and live to fight another day? Helping survivors can bring benefits — but can you afford to trust everyone you meet? Every path, every action, every choice has a consequence. At the end of the world, no place is truly safe."
JZ
(I looked and found nothing on the wiki about the date change, so hopefully I don't repeat, yet again.)
Ad blocker interference detected!
Wikia is a free-to-use site that makes money from advertising. We have a modified experience for viewers using ad blockers

Wikia is not accessible if you've made further modifications. Remove the custom ad blocker rule(s) and the page will load as expected.