We wanted to remind readers that AMC has two marathons planned to let people catch up on The Walking Dead before the Season 3 return next weekend. We've also included air dates for the upcoming black & white episodes that we reported on previously.
The Seaso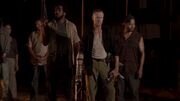 n 1 marathon starts tonight with Days Gone Bye at 3pm/2c and all six episodes will play in order twice until Monday morning at around 4:30am. In between the episodes, preview videos from episode 3.09 are expected. Next weekend, AMC will air all Season 2 episodes and the first eight Season 3 episodes, leading up to the new episode of The Walking Dead Season 3.
Don't forget that AMC also plans to air black & white versions of the first two seasons, starting this month. We're still waiting on additional confirmation and details, but here are the tentative air dates (via THR and TWD Magazine):
"Previously, only the pilot episode hand ever been screened in this style, but February will see the AMC network showing all 18 episodes from season one and two of The Walking Dead in monochrome format. Giving the series a Universal Monsters feel as well as mimicking the artistic style of the comic, this new way of enjoying the TV show has been fully endorsed by The Walking Dead creator Robert Kirkman and should prove very popular with fans of the comic book."
Feb. 14, 6:30 p.m. 101
Feb. 14, 8 p.m. 102
Feb. 21, 8 p.m. 103
Feb. 28, 8 p.m. 104
March 7, 8 p.m. 105
March 14, 8 p.m. 106
March 21, 7:30 p.m. 201
April 4, 8 p.m. 202
April 11, 8 p.m. 203
April 18, 8 p.m. 204
April 25, 8 p.m. 205
May 2, 8 p.m. 206
AMC previously announced that The Walking Dead Season 3 will return with episode 9 on Sunday, February 10th at 9pm EST. It has also been announced that Talking Dead will be expanding to a one-hour program format and will immediately follow The Walking Dead at 10pm EST.
JZ
One more measely little week guys. We can pull through this.