Game Developer's Conference (GDC) is the world's largest and longest-running gaming professionals industry event. The conference contains 400 lectures, panels, tutorials and round-table discussions on a comprehensive selection of game development topics taught by leading industry experts. GDC 2013 begins March 25th and lasts March 29th.
This year, The Walking Dead Video Game will featured in various panels. The summaries of these can be found below. We would like to ask, are there any elements or details of these sessions that you would be interested in getting more information about? How about any questions that you would like answered? Let us know in the comments: we will be attending these sessions, and can help gather the answers you seek! 
Saving Doug: Empathy, Character, and Choice in The Walking Dead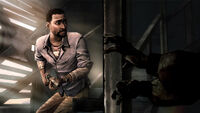 Telltale's The Walking Dead should be, by most historical measures, a failure as an apocalyptic zombie video game. It has no dedicated combat button, the main character has no exceptional skills or abilities, and it explores issues of race and gender under a mechanical and thematic milieu of "choice." By focusing completely on characters and "designing with empathy," we were able to create a story-driven game experience that has become both a commercial and critical success. Join designers Sean Vanaman and Jake Rodkin for a discussion of The Walking Dead's characters, its world, its moral choice moments, and where the player fits in to it all.
The Walking Dead: Crafting a Stylized World for the Mature Franchise
Since Telltale Games is known for its stylized and colorful adventure games, creating appealing art for a mature franchise like The Walking Dead was a difficult task. Most post-apocalyptic zombie titles on the market are realistic, gritty, and desaturated. Telltale's approach was to create an artistically stylized world that provided a fresh perspective on a successful franchise. By merging the look of the comic with Telltale's familiar illustrative style, the studio created a visually striking game that appeals to devoted adventure gamers, comic enthusiasts, and hardcore zombie fans.