Hello Fellowers of TWD Fans 
I found In TWD Covers Issue 123 and 124 and I wanted to let you know about new Covers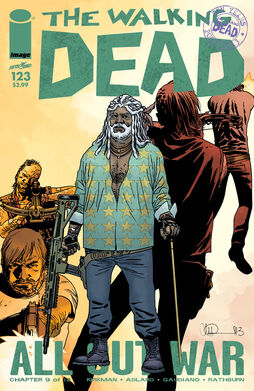 ISSUE 123
Okay, This Issue looks Very bad.... It's look like Dwilight Betray Rick and His Group, Dwilight going to tried to kill Rick. I always knew I never Trust Dwilight (Yes, He is an A#@#@$*) Ezekiel...Oh Boy, Ezekiel is very weak and nothing to do but I think he's most likely going to die. 
ISSUE 124 
Issue 124, OHH GOOD RICK'S ALIVE and I see Andrea Still Alive too but Dwilight died aww Shame. Okay Negan, What the heck, It's look like he's surrender or maybe he wanted to talk Rick about Wanted War over... Ha What a Coward. On the other hand Maggie is a badass Pregnant Woman! 
Can't Wait to see what happened next other issues Covers 125 and 126 
I'm sorry about my bad grammer and english please don't put talk about my bad grammer :( 
Tell me what you think and Prediction about this great Issue 123 and Issue 124 
P.S. I haven't seen Issue 123 and Issue 124 on your blogs but I didn't know yet.