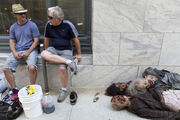 *SPOILER ALERT*
The Hollywood Reporter has big news from series creator Robert Kirkman and executive producer Gale Ann Hurd about how Season 2 is shaping up to be awesome. In a lengthy interview, the two described where the new season is headed.
Although each character will have their own growth and problems, the main conflict will focus around Rick and his self-doubt regarding his leadership and being a good father, says Hurd. Another major topic of the season is the love triangle between Rick, Lori and Shane. "One of the big dramatic sources of dramatic tension in the piece is obviously the love triangle at this point," Hurd says. "Rick isn't aware of what happened, he was 'out of the picture,' presumed dead between Lori and Shane."
The other characters also will have several problems and issues. Daryl, for example, is going to grow into a secondary leader. Andrea, coming off of her suicidal thoughts at the CDC, is looking to change her life around. "She's going to come out of that wanting to be able to protect herself," Kirkman says.
For the full interview, head over to The Hollywood Reporter or click this link here. For more production pictures (*potential spoilers*) check out this link over here.
Does this news make you excited for Season 2? The wait isn't much longer, the new season starts this Sunday!