Comment

1
Talking Dead - The Live After-Show Following The Walking Dead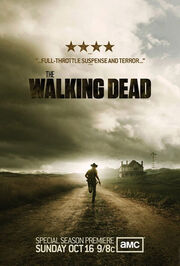 AMC announced today that there is going to be a live after-show following the airing of every episode of
The Walking Dead
this season called The Talking Dead. Chris Hardwick, of Nerdist and G4 fame, is slated to host. The plan for the show says Joe Stillerman, the Senior Vice President of AMC's original programming, is to create a "live water cooler" for fans to gather and discuss what they like and don't like, as well as their thoughts and opinions. The Talking Dead is be the first attempt at a program of this format from AMC.
Both Chris Hardwick and AMC are very excited for the project. Hardwick has stated "I would be doing [this] with my friends anyway, so the fact that AMC is actually paying to do so is a bonus."
More information on when the show will air, as well as additional quotes from Chris Hardwick and Joe Stillerman, can be found on the AMC website . Who else will be keeping their TVs on after the new episodes to watch The Talking Dead?
Ad blocker interference detected!
Wikia is a free-to-use site that makes money from advertising. We have a modified experience for viewers using ad blockers

Wikia is not accessible if you've made further modifications. Remove the custom ad blocker rule(s) and the page will load as expected.