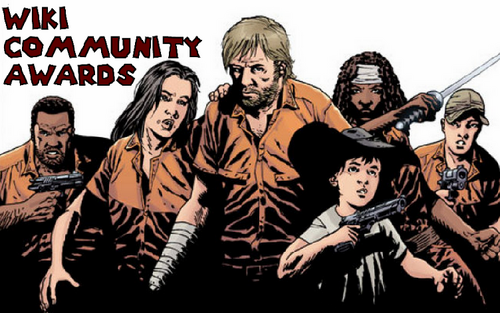 *Spoiler Warning*
Hello there, fellow wikians! I am proud to announce that I will be starting the first community awards blog for the Comic Series! This one has been long overdue, but we're finally doing this for compendium one!
Scroll through the following categories and vote for your favorite nominees. Voting will end on October 11th, 2014 and the winners will be announced shortly afterwards through another blog post.
The categories are right below! Have fun!
NOTE: To everyone that is not familiar with the comic series, and have only watched the television series or played the Telltale game of The Walking Dead, please be sure to familiarize yourself with the series and its characters before you vote, because the characters and storylines in the comic are drastically different from their TV counterparts.
Best Lead Female Character
Best Supporting Male Character
Best Supporting Female Character
P.S.
Thanks for voting! Be sure to check back within the next few weeks to see where your choices stand in the polls, and the final results! Comment below and discuss with fellow fans about your choices!
Special thanks goes out to CamTheWoot for designing the logo!