Comments

11
What Would You Like To See In Season 4?
Ok, so we are anticipating several things next Season, but what would you like to see happen? It could be anything from Morgan's return to Daryl's death.
Me personally I would like to see the Governor attacking the Prison like he did in "Home" sending a message to the Prison group that he is still out there, and stronger than ever. I would like to see him kill a few people in the Prison, not just Axel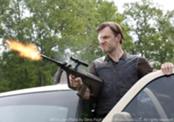 like in "Home".