Introduction
Hey guys, thanks once again for checking this blog out! I have loved doing this series so far and will continue to do this for a long time! You guys have gave great feedback so far (which I really apprecaite) and hope you all continue to do so!!  So enjoy guys! :)
TV:- Alisha 
Okay, I really liked Alisha! She's is one of my favorites as she was badass and tough but believable as she 
was previously in the army. Alisha also wasn't like the Mitch and the rest of the group as although she was shooting at Tyreese she was shown to be disgusted when The Governor decapitated Hershel.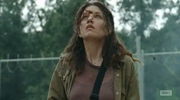 Also I think Alisha didn't really want to fight as she was saying that they had to because it was to late to go and even told Tara to run away, I loved the moment between the two of them when she was saying I will find you. Juliana Harkavy portrayed Alisha brilliantly although I did love her death and don't see anyway she could've survived, except maybe running away but Alisha knew it was too late. She also had one of the coolest scenes in the last episode as she started walking towards him with the machine gun or rifle or whatever, I was on the edge of my seating while watching it and her death was also awesome as it is a real turning point for Lizzie who couldn't 
bring herself to kill Nick, a walker. 
Your Say!
Do you think Juliana Harkavy portrayed her well?
Last Thing!
Well guys I know this one was a short one but I'm planning on eventually doing all the comic and TV Series character so some are going to be shorter than others! Thanks for reading guys, hope you enjoyed this and will come back for the next! Until then "Oh, bite me!"