-Spoilers Ahead-
-Read-
-At-
-Your-
-Own-
-Risk-
Contents
This is Ramonce12345, I'm here to review the Season 4's episode finale, "A". 
I know all of you guys have watched this episode. I liked it but wait, there's no Carol on this episode. 
Let's BEGIN the review!
Before we start...
English is not my native language so sorry for grammar mistakes.
Off-topic is allowed.
Swearing or insult to other users is not allowed.
Sorry for my too much off-topic.
Review
---
Recap
---
We see two groups reunited, Abraham's and Maggie's. They made it to Terminus. We saw the place, which is awesome and Joe's rules is really awesome. Daryl learns all of the rules and we saw Rick is being hunted by Joe's group. That's really scary.
---
Review
---
Rick and the flashback
We have seen Hershel again! This scene contains some remembrance to Rick. Nice job writers!
---
The Survivor
---
I know the survivor was really crazy, he has 7 seconds to escape (I think) or he can use the bat to kill the walkers. You know, Carl was gonna try to save him, but ended up stopped by his dad. That survivor is similar to Issue 51. 
---
Rick being aimed by Joe with his M1911A1
---
Rick and the Marauders
So, Joe's group found Rick and something bad happened, Carl gets raped. I learned that a simple lie will result to a death in Joe's group. If my classmate who really likes Daryl watches this, she will scream "Daryllllllllll!!!!". It was really sick for me to watch Joe's death scene! Carl's raping scene is the most disgusting scene that I ever watched. What is it? lol a male to male rape. Daryl's beating scene wasn't really awesome but when they stopped beating Daryl, the one with a bonnet gets killed by him but the other guy was killed by Michonne.  I really laughed at Daryl's face after the fight. This scene was really good! 
---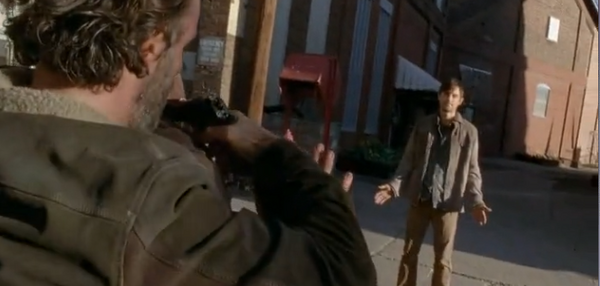 Rick, holding Alex with Joe's M1911A1 while holding him as a hostage.
---
Well this became a trouble to me, as Rick's group came inside of Terminus. After they go to the broadcasting station, we see Glenn's riot suit, Daryl's poncho, Hershel's pocket watch. What happened to them? Is Terminus a trap?
-Second warning for the people who haven't watched this episode yet.-
-Do-
-not-
-scroll-
-down-
-or-
-will-
-kill-
-you-
For me, yes. It's like the rabbit trap that Rick made. Link.
The group hostage Alex, who was guiding them. After Mary accidentaly shoots Alex, Terminus survivors start shooting at Rick's group. After they reach the exit, they are completely surrounded. They are led by Gareth. He led Rick's group to a boxcar and revealed that the Abe's group are there.
Score
| Development | Acting | Story | Total |
| --- | --- | --- | --- |
| 37/40 | 23/25 | 35/35 | 95/100 |
Goodbye
Thank you for reading dis!
Especially to Robert Kirkman, AMC, and u!!!