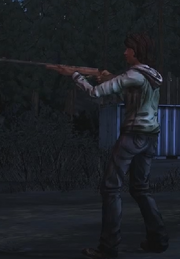 Hey i think it is an 400 days character
Because i was looking in the trailer at 3:07 and i saw a girl.
Its not Sarah because this girl is taller.
Its not Rebecca because this girl is not pregnant.
And not Clementine because Clementine is with the girl. But that hairstyle looks like the one Becca has and she i wearing Shel's jacket
But you cant see her face so it is not comfirmed ( Just like Kenny/Nick)
And here are 2 pictures :
Ad blocker interference detected!
Wikia is a free-to-use site that makes money from advertising. We have a modified experience for viewers using ad blockers

Wikia is not accessible if you've made further modifications. Remove the custom ad blocker rule(s) and the page will load as expected.