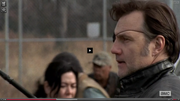 I know Rowan's status is unknown, but I think she's dead. In the assault on the prison there was a women walking next to Karen when they jump out of the truck that looked like Rowan. This may be her, it may not. It very well may be the extra who was mistaken for Rowan in Say The Word. It may be Rowan, or it may be a completely different person. But I personally think she's dead. I'm trying to find a picture. She can beseen behind the barrel of TG'S AUG.
Ad blocker interference detected!
Wikia is a free-to-use site that makes money from advertising. We have a modified experience for viewers using ad blockers

Wikia is not accessible if you've made further modifications. Remove the custom ad blocker rule(s) and the page will load as expected.