omg a third blog in a row xD. Okay Okay I will stop doing them in rows xD.
srry I've been wanting to do this HUGE 22 everyone for themselves VS since the  Herhsel's Farm vs. County Police VS in 2013. So let's get on with this. Leave comments and we will discuss this huge ass battle.
Do to there being SO MANY PEOPLE in this fight I will not select their weapons instead let's say all the characters get this
Semi Auto Rifle, Assault Rifle with 1 Magazine, Riot Shield, Sword and (if they have 1) Weapon of Choice
The Fighters
Arena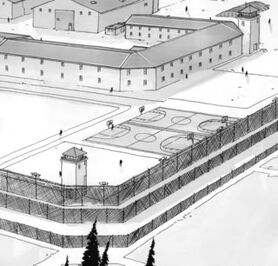 Items Scattered Around
There will be random supplies scattered around the arena the fighters can use....these are
Riot Armour
Horse (No It's not dead, they ride it)
Crossbow
4 Grenades
Cop Car
prison Bus
Molotov Cocktail
8 Riot Shields
1 Random Walker Walking Around the Prison
Who Wins?
*Please Read*
I will now be taking suggestions and if no suggestions are given i will take the VS Blogs back to the gorous days where it was 2 camps and they fought. Comic Month is OVER! 
Also srry for third blog in a row xD
Fear the Hunters, Hunt the Dead, Stay Badass - Pigpen077 (talk) 23:22, February 23, 2014 (UTC)