Hello Guys and once again please leave a comment below and talk about the fight. Also leave suggestions. This fight was suggested by Popozão so give him all the credit. Now let's begin!
Now last Time Negan won by a landslide so we are gonna leave him out just because well....he's over powered xD but still we got 15 bad guys that are here to battle to the DEATH!
RANDOM SUPPLIES
There will be random supplies just randomly left in the arena................randomly :P 
They Include
Jolene's Crossbow with 4 Bolts
Riot Gear
Riot Shield
1 Grenade
Spare Eyepatch :P
The FIGHTERS
Gov Comics will have 2 Arms St. Johns have never met before
Weapons
Gov TV - AUG Assualt Rifle, Golf Club
Gov Comics - Semi Auto M4A1, Stolen Michonne's Katana
Danny St. John TT - Bolt Action Rifle, Sickle
Andrew St. Jonh TT - Bolt Action Rifle, Meat Cleaver
Nate TT - Handgun, Bowie Knife
Thomas Comics - .44 Magnum, 2 Kitchen Knives
Brenda St. John - Handgun, Machete
William Carver - Colt Python, Machete
Chris Comics - Semi Auto M4A1, Fire Ax
Derek Comics - Fully Auto Assault Rifle, Spiked Baseball Bat
Andrew TV - Fully Auto Assault Rifle, Baseball Bat
Randall - Fully Auto Assault Rifle, A Really Sharp Stick :P
Shane TV - Shotgun, Fire Ax
Merle S1 TV On Drugs - Bolt Action Rifle, Hunting Knife
Connor Comics - Fully Auto Assault Rifle, 2 Bowie Knives
Arena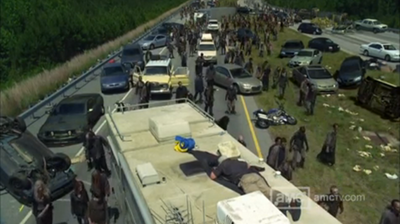 Poll/Vote
COMMENT AND DISCUSS WHO U THINK WOULD WIN
I love doing these Antagonist VS Blogs thing and so If you guys like it too, leave who u think would fall and live in this battle!
Remeber to leave suggestions!
"Pray for RICKS safety in All Out War Part 2, Fear the Hunters, Hunt the Dead, and Stay Badass" Pigpen077 (talk) 23:02, March 28, 2014 (UTC)
Ad blocker interference detected!
Wikia is a free-to-use site that makes money from advertising. We have a modified experience for viewers using ad blockers

Wikia is not accessible if you've made further modifications. Remove the custom ad blocker rule(s) and the page will load as expected.