HELLO EVERYONE AND WELCOME TO ANOTHER VS BLOG! Remeber to comment! I know it's been a while I just haven't got around doing one but non the less this vs blog idea was from Prezziesnow9704:)!  so give them the credit.
Now for Amputations we need to set some things here
1. Hershel TV will have his Prostetic Leg
2. Merle TV will have his Prostetic Knife Arm
3. Mark VG will have only 1 leg gone
4. Allen Comic will have a prostetic leg as well even though he never had one
5. We are keeping Comic Andrea out of this cause like before she is an instant win
6. If someone is amputated and is INSTANTLY killed they do not count for the VS
Anymore questions? Nope okay let's begin.
The Fighters
Weapons
Rick - Handgun, Hachet
Lee - Handgun, Axe
Gov - Revolver, Stolen Michonne's Katana
Allen - Semi Auto Rifle, Riot Shield
Heath - Handgun, Machete
Merle - Semi Auto Assault Rifle, His Arm
Mark - Bolt Action Hunting Rifle, Hunting Knife
Hershel - Shotgun, Pitchfork
Dale - Scoped Bolt Action Hunting Rifle, Machete
Greg - Revolver, Bowie Knife
Arena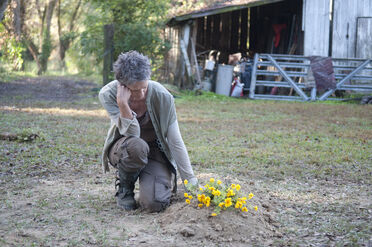 Poll/Vote
PLEASE COMMENT AND GIVE SUGGESTIONS
Yes, I am running out of Ideas for VS blogs and I need your help. So far I've used only 3 suggestions out of the 4 suggestions i've ever got. If I like your Idea I'll use it and give you credit. The people's Ideas I've used from are
So if you guys would maybe give me some suggestions on fights, Heck I might redo an old one from Season 2013 if you really want me too. Thx guys and I hope you all have a wonderful day/night.
"Pray for Andrea's Safety in All out War, Fear the Hunters, Hunt the Dead, Stay Badass" -Pigpen077 (talk) 19:26, March 20, 2014 (UTC)
RANDOM VS BLOG: Damn, an Oldie
LAST VS  BLOG: Apperently Nobody including me don't read the Novels
Ad blocker interference detected!
Wikia is a free-to-use site that makes money from advertising. We have a modified experience for viewers using ad blockers

Wikia is not accessible if you've made further modifications. Remove the custom ad blocker rule(s) and the page will load as expected.