no he isn't.
WARNING THE FOLLOWING WILL CONTAIN LOTS OF NO NO LANGUAGE TO SOME PEOPLE, IDK WHO ON THE WIKI BUT U MIGHT BE OFFENDED. ALSO THIS BLOG WAS SUPPOSED TO BEGIN IN MAY BUT DO TO ME JUST BEING BORED I THOUGHT HEY.....WHY THE HELL NOT. ALSO THIS WILL  CONTAIN SPOILERS FOR S3 IF UR NOT CAUGHT UP OR UR A NEW VIEWER. OH BTW CAN WE NOT INSULT MY GRAMMAR I HAPPEN TO HAVE A GRAMMAR PROBLEM.
Now before we begin let me get this off my chest. I like Daryl, he is one of my fav characters. However he's like number 9 now on the list. Now me liking Daryl will have no impact on this blog, i agree completely he was just.....unkillable in S3. Now let's begin.
The Theory
Now Daryl started out in S1. He is a redneck with a crossbow and attitude.....as much attitude as  fucking Jar Jar. He was...well likable I guess. People generally liked him in S1 and S2 but then in S3 he became...well? Not really much story, and yes Daryl had story in S3....it was just, well shit. Daryl's whole Development in S3 was just Merle (which btw is my 2nd fav TWD character) and let's be honest he just wasn't killable in S3 or even 4! Why because fucking Mazzara! Daryl became this....this badass killing machine in S3, no walker could hurt him, nothing can hurt him! Hell there was even stuff on the internet like "Look out Chuck Norris here's Daryl Dixon!" *sigh* let's go into detail
1. Okay so the fanbase that most people talk about is well the god damn fangirls (or boys). They just go apeshit over him! "IF DARYL DIES WE RIOT" shit is soooo stupid. Why the fuck r u gonna stop watching the show because a character dies. It's stupid! Not to mention Google Image Daryl Dixon Memes....it's insane!
2. Now at this point u might be wondering "What does Mazzara do with this?" Well my fellow users or anons is Mazzara is the one at the head of the show at the time Daryl became "unkillable" He escapes death like every episode. Now the reason I think Daryl is "unkillable" is yes because Mazzara's S3 is just insane with action and blood/gore every episode! I don't get it Mazzara WHY!!!!!!!!
3. Mazzara's effect on Daryl's character is insane! Even Gimple can't stop it...at least for now. In S3 Daryl became the biggest shit ever in TWD to like half of the fans and if AMC/Gimple killed Daryl....well that'd be a pretty ballsy move. Now I want Daryl to die, he should die in the Mid S5 finale honestly. This is also one of the things Gimple has done wrong (there is only like 5 bad things and most r minor except this 1 and..."still") is Daryl just escapes death constantly. Like the Funeral Home scene or when he;s getting beaten by Joe's goons. However Gimple counters this by giving Daryl develpment. A lot of Anti-Daryl fans can admit that in that shit episode Still Daryl is suprisinly the best part of the episode.
There are many more shit I can say about Daryl but listen up. Daryl is killable. All the characters are (except Rick, Carl, Michonne, Abe, and Eugene) Daryl is no damn exception.
P.S why I like Daryl
Now with everything I said I do love Daryl...........for 3 reasons
1. I feel if Gimple keeps on giving him development he can became a strong character like in S1/S2
2. While he is completely unrealistic (but let's face it is anything in TWD realistic?) I like the 1 person in a group that's just under badass....but with character in him/her. *coughs Michonne coughs*
3. Norman Reedus is a great actor.
Now go ahead and hate in the comments I don't care ya'll just hipsters anyway! jk
but see u guys later!
FUTURE FILES:
1. T-Dog Theory: CASE CLOSED
2. The Andrea Problem: CASE CLOSED
3. Daryl is Unstoppable??: CASE CLOSED
4. Arrow in the Knee
5. The Identity Thieves
6. Welcome to the oh god this blows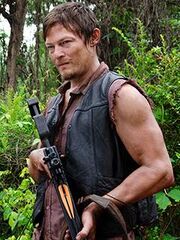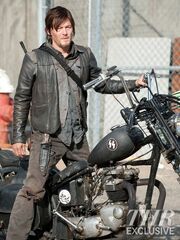 OH WAIT GUYS DON'T TYPE COMMENTS YET!!! Due to AOW Part 2 over I need a new part of my catchphrase. The former one went like this.
"Pray for Andrea's Safety in All Out War, Fear the Hunters, Kill the Dead, Stay Badass."
I need something to replace the Andrea one. here are some options
I'll let u guys decide.
P.S.S: Okay please keep the comments civil. IK there is a lot of Daryl fans here (including I) and if ur offended please just keep it civil I don't want a heated debate. Thx guys.