this is gonna be a long one lol. Anyways welcome you guys, it's Pigpen back to order the worst Telltale Games The Walking Dead Episodes to the best. 
Oh yea and there is an easter egg here. Find it m8s.
NOTE I HAVE NOT PLAYED SEASON 2 SO MY OPINION ON THE EPISODE IS FROM WACHING LET'S PLAYS AND LIVESTREAMS!
Honorable Mention: 400 Days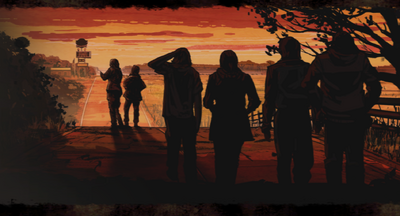 Is this even considered an episode?
10. A New Day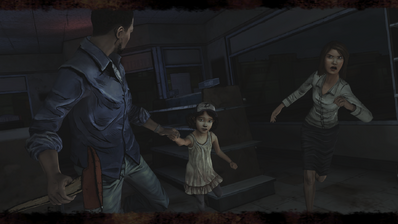 Now I do not hate this episode, hell I don't hate any episode, I simply find this one the least fun to play/watch. This episode is overall I'd give a 7.5/10
Pros
Introduction of Lee, Clem, Kenny, Carley, Doug, Lilly, Duck, Katjaa, etc
Our First who do we save choice
References/apperances to/from the comics (Thomas, Glenn, and Hershel's Family)
The Taking the Motel Scene
Cons
Our first who do we save choice doesn't really effect the storyline at all
Glenn just ditching the group
Pointless Characters (Chet, Andre, Irene)
Little Replay value
9. All That Remains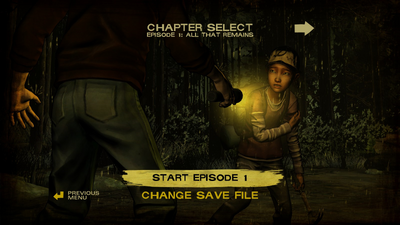 The first episode of Season 2 is slightly better then Season 1's premiere. It's still good though and I'd give it an 7.8/10. Also I'm sorry PETA but you get mad at Assassin's Creed IV: Blag Flag for Whaling but you don't give a shit about Sam the Dog's death? PETA you sometimes don't make sense.
Pros
Introduction to the Cabin Group (Nick, Rebecca, Alvin, Carlos, Sarah, Pete, oh yeah and Luke...)
The river scene
Once again another who do we save choice
"I'm still not Bitten!"
Winston's Group scene
Cons
The who do we save choice literally has no effect on the story
Telltale having Clem kill a dog (Damn Telltale...brutal)
Bringing back Christa and Omid just for Christa to become Unknown and Omid to die
8. Amid the Ruins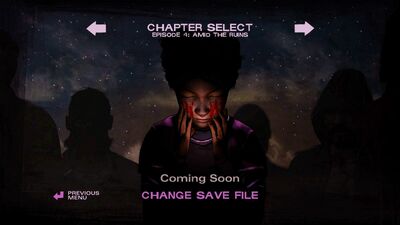 Amid the Ruins is the most split down the middle episode in the series with half the fans liking it and half hating it. Personally I'd give it an 8/10.
Pros
Rebecca's Baby is born
Kenny's Speech
Bonnie becomes likable
Finally another winter in TWD
Ditching the boring ass 400 Days Characters (minus bonnie)
The Russian Group ambushes the group scene
Cons
Nick dies offscreen
Sarah dies no matter what you do in the episode (Man I wonder if anyone was obsessed with Sarah)
Luke becomes downright unlikable
Jane in General
7. Long Road Ahead
Long Road Ahead is another mixed bag for people but I personally love it. I'd give it an 8.4/10.
Pros
Chuck's Introduction
The Bandit's and the Motel scene
Christa and Omid's Introduction
Great Kenny Development
The Lilly kills Carley/Doug scene
Duck get's Development
Cons
Katjaa going out of character
Kenny and Lee looking for supplies scene
Lee and Carley's romance goes nowhere
Getting the train to run scene
6. In Harm's Way
In Harm's Way is the third episode of Season 2 and is also the third Season 2 episode on here :D. This episode for me get's an 8.5/10.
Pros
Introduction to Mike
Any of Carver's Scenes
Troy getting shot in the dick scene
Reggie's Death Scene
Any of Kenny's Scenes
Cons
Waste of the 400 Days Characters
Carlos's Death
Nick becoming a background character
5. Around Every Corner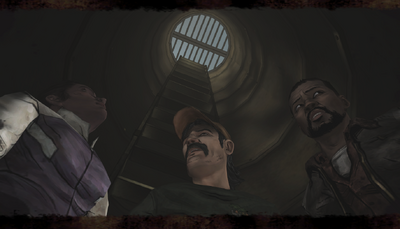 Around Every Corner for a lot of people is an episode that nobody really cares about. I give this episode an 8.8/10.
Pros
The entire Mansion Scene
The entire Crawford Scene
Biggest Twist Yet
Molly's Introduction
Entering Savannah scene
Cons
Chuck's character wasted
Brie just being Brie
Ben's stupidity is off the charts
The Cancer Support Group
Saving Ben or Killing Ben doesn't really have any impact on the story
4. A House Divided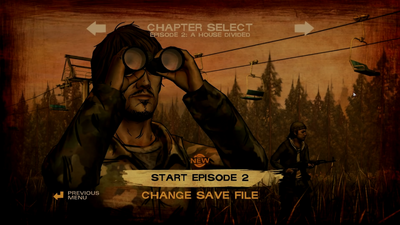 A House Divided featured the return of a fan favorite character Kenny and is one of my favorite episodes (no duh). I give it a 9/10.
Pros
Kenny's Return
Walter's Introduction
The Bridge Scene
Pete's Death Scene
The Cabin Invasion Scene
Cons
Pete being a wasted character
Bonnie being out of character
Kenny's return while awesome is just fan service (Let's be honest)
3. Starved For Help
Starved for Help while the second episode of the game is just fucking amazing. I give it a 9.5/10.
"Hmm...Pointy"
-Lee Everett
Pros
Mark's Introduction
Saving Ben and his group scene
The Meat Locker scene
Jolene's Only Scene (Besides the Video Camera footage)
Choosing who to feed scene
Fighting the St. Johns Scenes
Cons
Mark's character is another wasted character
The Arguing Bandits Scene
The Stealing from the Car Scene
2. No Time Left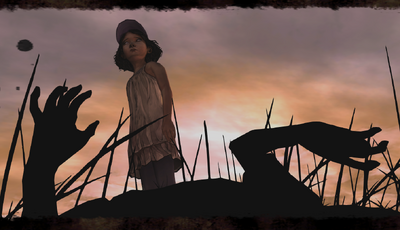 My original favorite episode. I give it a 9.9/10.
Pros
The Saddest Death Scene Ever (R.I.P Lee)
Talking to the Stranger Scene
The Last of the Mansion Scenes (The Attic Scene and holding the walkers off scene)
Lee walking through that herd of Zombies like the badass he is
The Cliffhanger Ending
Cons
The Cancer Support Group beating up Kenny (Cause that'd happen)
1. No Going Back
No suprise here. 10/10.
Pros
2 of the 5 Endings
Literally almost everything
Cons
Arvo in general
Bonnie and Mike out of character
Jane being a psycho asshole
3 of the 5 Endings
Thanks for reading! Leave a comment and vote!
Are you currently enjoying Pig's Lists?