Hey guys Jesus here once again with another Opinions blog and this one will be about Sasha, original TV character and younger sister to the one and only Tyreese.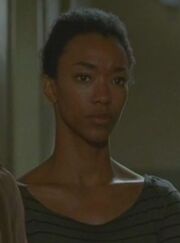 My Opinion
I think she's interesting and is a definite improvement over Julie. She seems bossy but I can overlook that, so far I like her and I hope she gets better over time.
Your Opinions
Ok and now in the comments below tell me what you think of her.