This is a new thing I'm starting, I give all credit to User:Axel TWD who made The Walking Dead fights which inspired me to do this. This series can have Walking Dead characters vs other Walking Dead characters, TWD characters vs LOST characters and TWD vs Left 4 Dead characters. The first battle: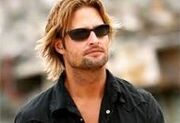 DARYL DIXON FROM THE WALKING DEAD TV SERIES >>>>>>>>>>>>

VS
JAMES 'SAWYER' FORD FROM LOST >>>>>>>>>>>>>>
Leave your vote and suggestions for the next fight in the comments, voting will end on Monday, which is also when the next battle will be posted.