I was just wondering, but did anyone else notice a mistake about Sophia's death?
the mistake was that when Rick shot her in Pretty Much Dead Already, she fell side ways but in Nebraska she is lying straight.
Obiously every show has its mistake and I'm not critisising the show or anything I just thought I'd point it out.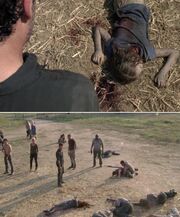 Ad blocker interference detected!
Wikia is a free-to-use site that makes money from advertising. We have a modified experience for viewers using ad blockers

Wikia is not accessible if you've made further modifications. Remove the custom ad blocker rule(s) and the page will load as expected.