So I was roaming Spoilthedead.com and found the long-awaited scene that was deleted in Season 3 - it features a conversation between Merle and Carol in the prison. I remember Andrew Lincoln saying that Carol had one of the most epic lines of the entire season.
Watch below, enjoy, and post your thoughts! (Apologies if it does not work for the international folk, they are trying to find the international version over at Spoilthedead - keep checking the thread in case a new international version is uploaded)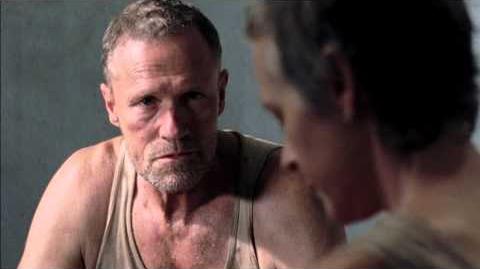 The text...
Carol "Brought you some food."
Merle "Thank you."
Carol "Figured you're part of our family now. It's not much, but given what we've had, it's a lot... I should have been dead several times over"
Merle "Ain't that the truth for us all."
Carol "I think part of the reason why I'm not is…is because people underestimate me. Don't underestimate me"
Merle "Excuse me?"
Carol "I've seen you making the rounds…trying to play nice. But if you scew this up…mess with Daryl…I will slit your throat while you sleep... Enjoy your food."