Comments

2
New close up shot of season 3 walker
Bumped into this season three pic on twitter, thought it ight be something the wiki community would enjoy.
probably the coolest looking walker ive seen thus far.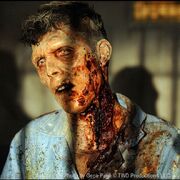 the original title of this phot at the bottom was ep-1-walker-yard or something like that. so now we know these are both prison walkers. and since it is episode one, we know they both clear the yard, and discover the prison in the first episode!
Ad blocker interference detected!
Wikia is a free-to-use site that makes money from advertising. We have a modified experience for viewers using ad blockers

Wikia is not accessible if you've made further modifications. Remove the custom ad blocker rule(s) and the page will load as expected.