ok, so today i would like to discuss the series four action figures and there detail ect.
1) Carl
: Carl looks well detailed except the face looks a little bit not like Chandler riggs, the actor who potrays him . He comes with a duffle bag , REMOVABLE sherrifs hat given to him by rick, prison cell keys , hunting knife with thigh sheath and NO GUN!!! thats one of my main dislikes. I'd give it a 5 out of six , that might change do to the fact that it's a prototype.
2) Andrea: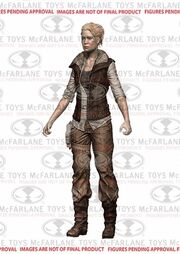 the action figure is a must have !!! its perfect ! she is wearing the exact same outfit from the season 2 and 3 finales . She looks just like laurie holden. She comes with : a pistol with thigh holster , a sniper rifle , and a pitchfork that is  from hershels farm in season 2. I'd give this figure a 6 out of 6.
3)Phillip) comes with two heads, pistol with holster, and machete with sheath. id give it a  5 out of 6 for right now.
Thanks for reading! comment ! i always like reading them bad or nice! bye!
Let me know if you want me to add the two prison walker figures to this list !!!
(source) : mcfarlane .com