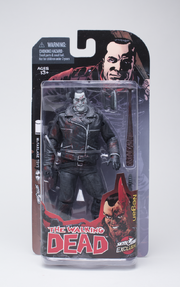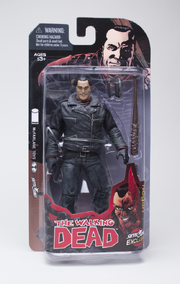 Warning: Spoilers for The Walking Dead comic book readers who have not caught up to Issue 100.
Hello!
Today, November 22nd, 2013. The rumor of the new Negan action figure has been announced. It has been mentioned that this action figure is in "Limited Edition", and will be released for Black Friday on The Walking Dead website. Black Friday will arrive on November 29th, 2013, so be prepared. Also, all items will be discounted from Black Friday, to Decmber 1st, 2013 (Monday).
There will be two sets of the Negan action figured, made by the McFarlane Toys. One being colored, and the classic black and white with the blood splattered on his face and leather jacket. Both of the Negan action figures has Lucille, his weapon that has slaughtered numerous amounts of walkers and poor ol' Glenn. And also his iron that he has fried Dwight's and Mark's left face with. So exciting! Also to mention that the action figure costs US $25.00.
Good luck to all of the people who will die for this one of a kind action figure!
Sincerely,
Lightning43