Fans of The Walking Dead are counting the days until we finally see the inside of the famed prison, which comic book fans are already familiar with.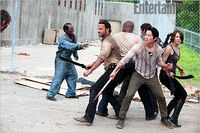 What could be creepier than a prison...full of zombies?
So we've collected two preview pictures to give you a glimpse of the prison and its flesh-eating inhabitants. Check out Maggie delivering that blow with the machete! I'm getting chills just looking at it.
"I'm incredibly proud of the prison," says showrunner Glen Mazzara. "I think our crew has done a great job. It's a huge sense of scale and magnitude I haven't seen on any other show as far as construction. What's important to us is, the prison itself is now a character in the show. It's a haunted house, it's scary, it's frightening, and there are parts of the prison that are always terrifying, that are always inaccessible to our group. It's not necessarily the blessing that the prison in the comic book turned out to be."
Does the prison look like everything you hoped it would be? Will you be tuning in? Let us know and comment below!
Source: Entertainment Weekly
---
---