Hey everyone. I've got the list of the figures coming out next series (which, by the way, comes out September or October 2013...if not sooner).
Andrea
Ah, Andrea. This should be a pretty awesome addition considering she's been with us so long. Plus, it'll be a great figure to put with the Michonne and Pets of Series 3.
The Governor
Needless to say, this will be the awesomest figure of Series 4...especially since there will be an Andrea to pair him up with.
Carl
Let's hope he has that atomic paw t-shirt (NOTE: The atomic paw symbol actually is Science Dog's logo. Science Dog is from one of Kirkman's comics). UPDATE: HE'S GOT THE ATOMIC PAW SHIRT!!!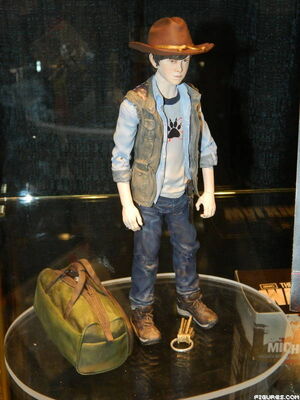 Riot Gear Walker
Oh yeah. Does it get any cooler than that? I can't wait for this figure to come out.
Riot Gear Gas Mask Walker
This one sounds even cooler! This is one of my must-have walkers now.
Bloody Black and White Merle and Daryl Dixon Pack
Hmm. I'm going to buy this pack just for the Daryl, since the Series 1 Daryl is selling for about $300 and I am NOT paying that much for one. I'll get the B&W and just repaint him.