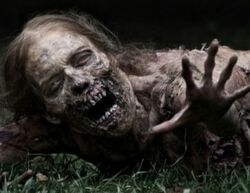 If can't get enough of The Walking Dead and its zombies, you'll be psyched to hear that AMC is launching six webisodes dedicated to Hannah. Don't remember Hannah? She's the bicycle zombie who got gruesomely destroyed by Rick in the pilot episode of the series.
Although we shouldn't get too attached- she IS a zombie after all- we'll get to see her history and Hannah B.Z (before zombie). The webisodes will be available on amctv.com on October 3, two weeks before the October 16th premiere of Season 2!
Will you be watching the webisodes?
Ad blocker interference detected!
Wikia is a free-to-use site that makes money from advertising. We have a modified experience for viewers using ad blockers

Wikia is not accessible if you've made further modifications. Remove the custom ad blocker rule(s) and the page will load as expected.