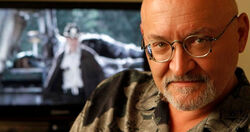 We have some upsetting news for you, Walking Dead fans! The creator and director of Walking Dead, Frank Darabont is apparently leaving his hit show!
Although still in early stages, Deadline reports: "There is speculation that Darabont might be off the show completely, but I hear talks are still ongoing about him possibly staying on in some capacity. Darabont… hails from the feature world, and I hear that he never quite adjusted to the daily grind of producing a TV series…"
"It is unclear if The Shield alum Glen Mazzara [right-hand man/exec producer], who has showrunning experience, would now step in to run Walking Dead. I hear that the behind-the-scenes turmoil has not affected production on the show, which continues as scheduled."
It's a complete shocker considering the immense popularity of Walking Dead and his thorough involvement with the show. We don't yet know who his replacement will be or exactly how this will affect future episodes. Remember that Season 2 will have double the episodes of the original (with 13 instead of 6.) Do you have faith that Walking Dead Season 2 will be just as good as the first season? Tell us what you think in the comments!