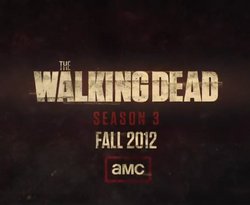 We have an amazing opportunity for you, Walking Dead fans! Wikia is heading to Comic-Con this year and we have the chance to interview the writers/execs of The Walking Dead.
Who will be there? "The Walking Dead" panelists include: Andrew Lincoln, Sarah Wayne Callies, Laurie Holden, Norman Reedus, Steven Yeun, Lauren Cohan, Denai Guerrero, David Morrisey, Executive Producer and Showrunner Glen Mazzara, Executive Producer Gale Anne Hurd, Executive Producer Robert Kirkman and Co-Executive Producer and Special Effects Make-up Supervisor Greg Nicotero.
We wanted to open the opportunity for questions up to the community. Do you have burning questions for the talent behind The Walking Dead? Tell us in the comments and we'll relay them!
Afterwords, be sure to check back at the ToMoro page for the full interview!
---
---